Concarneau, France-based shipbuilder Piriou has signed a deal with a new customer for an ASD shiphandling tug for operation in the French Caribbean.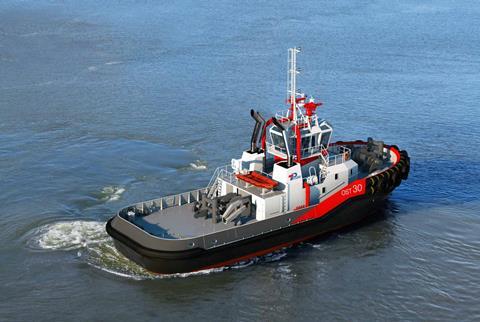 The order covers an OST 30 design tug from Piriou's portfolio and is for operation by Caraibes Remorquage at Pointe-á-Pitre harbour in Guadeloupe, an island in the French Caribbean.The new owner states that the investment is part of the development of Jerry, Baie-Mehault container terminal and a demand to handle ever larger container ships where the port authority now require ship assist services for container ships up to 6,500teu.
To be named Pointe Tali, the new tug will replace the 'venerable' 50 years old tug Pointe Jarry and with a bollard pull figure of 55t will maintain the two-tug operation at the port joining another ASD tug of 47 tonnes bollard pull. The new addition to the fleet of Caraibes Remorquage is being built at Piriou's South East Asia Shipyard facility in Ho Chi Minh city in Vietnam and is due to enter service in 2018.
Vincent Faujour, Piriou group general manager said: "We are glad we won the trust of a new operator of this sector. With nearly 20 years' experience building tugs, we keep strengthening our position as a significant actor with sea proven designs and a strong ability to customize our vessels in order to answer the specific requirements of our customers."
The OST 30 is designed for push-pull harbour operations along with the ability to carry out coastal and ocean towing. Published specifications of the OST 30 include: an overall length of 30.3m, overall breadth 10.4m, depth at main deck 4.45m and maximum draught 5m.
Power is supplied by two high-speed marine diesel engines each developing 1,678kW driving two azimuth thrusters and delivering the required 55 tonnes bollard pull and a speed of 12.5kn. Tank capacities include 87m3 of fuel oil and 26m3 fresh water.
Caraibes Remorquage specified some interesting modifications to the standard design to satisfy specific role and regional requirements. These include: a pneumatic starting system to limit the number of batteries on board; gasoil and fresh water ship supply capabilities, a separately powered fifi system; towing hook for 'high seas towing'; fenders adapted to push low freeboard barges and finally an indirect refrigeration system involving all the vessel equipment with box coolers adapted to tropical conditions and no seawater circulation.
Point Tali is designed for a three-yearly docking schedule with special antifouling and an ICAF system. In the wheelhouse, and as now standard with these types of tugs, the ergonomics and layout allows the master to access all controls required for normal operation along with clear all-round visibility. The accommodation complies with latest ILO 2006 standards with special attention paid to sound insulation and air conditioning.
By Peter Barker