The Royal Oman Police Coastguard (ROPCG) has taken delivery of a 26m Patrol Interceptor Vessel (PIV) capable of speeds in excess of 50 knots.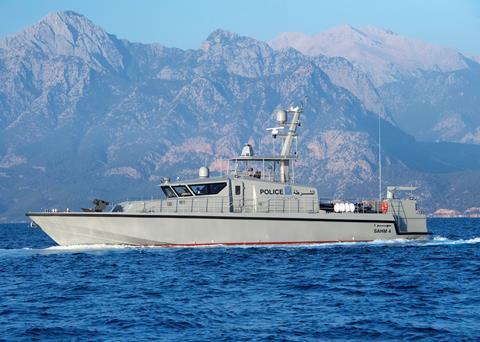 BMT designed the first 'ARES 85 Hercules' PIV, which was built by ARES Shipyard in Antalya, Turkey. The vessel deal is a continuation of the partnership between BMT and ARES responsible for a range of fast patrol boats between 18m-48m.
The ROPCG contract for 14 Patrol Boats within a four-year acquisition program is well underway with the first vessel now delivered, and multiple other vessels in various stages of fit out. The vessels, which are fully customised to meet the ROPCG's needs, will provide the agency with a much-expanded capability to patrol and secure the nation's waters.
John Bonafoux, director of business development at BMT, said: "Another first has again been accomplished by BMT and ARES. The interceptor, has now been delivered to The Coast Guard division of the Royal Oman Police, is the first unit of a new vessel series of high-performance vessels."
During initial sea trials the vessel was praised for its exceptional performance, reaching a speed of 52 knots. The trials highlighted the high efficiency of the vessel, whilst maintaining superior seakeeping performance and manoeuvrability.
With its upright wheelhouse providing excellent visibility alongside low noise attenuation throughout, the vessel is expected to be an excellent asset to the ROPCG in active duty.
By Rebecca Jeffrey