A joint venture between the French oil and gas giant Total and Simply Blue Energy is planning to establish what will be the first wind farm in the Celtic Sea to the west of the UK writes Dag Pike.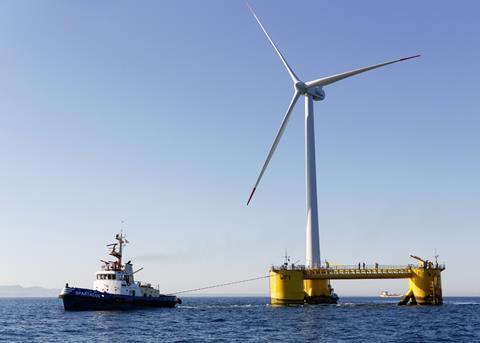 The planned 96MW wind farm will use WindFloat technology based on the floating wind turbines developed by the company. These tried and tested floating turbines were first deployed off the coast of Portugal nearly 10 years ago. The partners have submitted an application to the Crown Estate for the initial project, which is being developed under the name of Erebus.
Patrick Pouyanné, the chairman & CEO of Total, commenting on the deal, said, "This confirms Total's ambition to contribute to the development of renewable energy worldwide. Total would contribute its offshore operations and maintenance expertise to the project, as well as the financial capability that floating offshore wind will require to scale up over the coming decade."
Speaking for Simply Blue Energy, its managing director, Sam Roch-Perks, said, "The company is delighted to partner with Total. Together we will progress the first stepping-stone projects that will allow the local supply chain to build up their capabilities to help deliver the larger projects that will be developed for the 2030's".
This initial venture into the Celtic Sea will be based around the coasts of Pembrokeshire and it is likely to use Milford Haven as a base. According to the Offshore Renewable Energy Catapult, the Celtic Sea could support up to 50GW of offshore capacity, which would support thousands of jobs in both Wales and Cornwall. The Celtic Sea lies between the south of Wales and the north coasts of Devon and Cornwall. It stretches as far west as Ireland and south to the coast of Brittany.
Floating wind turbines could ultimately compete with standard offshore turbines, because they can be constructed on land and towed out to deep waters, reducing installation challenges.
However, Christoph Harwood, who is the director of policy & strategy at Simply Blue Energy, was reluctant to say whether floating wind would ever be cheaper than its fixed equivalent. "You avoid some issues, but then you have to wrestle with others. We are a project developer rather than a technology developer."