The VindØ consortium which comprises two of Denmark's largest pension funds, and Denmark's largest utility company has revealed plans for the world's first energy island in the North Sea.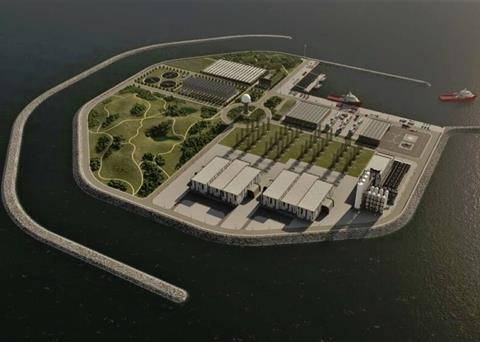 The artificial island is to be built in the Danish part of the North Sea about 50 miles from land on the Western coast of Denmark. The current plans call for the island is to be established by 2030 and to be connected to 3GW of offshore wind from nearby wind farms. In the longer term the island will be connected to 10GW of offshore wind and it will also be home to energy storage systems and Power-to-X systems that involve converting wind generated electrical power into hydrogen as a fuel. There will also be accommodation, O&M facilities, a harbour for support vessels and HVDC converters for transmission and inter-connectors.
The plans suggest that the artificial island will be constructed on a base of submersible concrete boxes which can be floated out and then in-filled. An outer breakwater on the exposed westerly side will help to break up larger waves before they impact on the island itself. Feasibility studies have been taking place for some time and it is expected that the final decision on the location of the energy island and the accompanying wind farms is expected by spring of this year.
The Danish Energy Agency and Energinet have begun preparations for the detailed studies of the seabed and the impact of the islands and offshore wind turbines on the environment. These studies are expected to be completed in 2024. Prior to that, the government has issued an offshore wind map identifying the zones where the wind farms which would be connected to the energy islands could be developed with the whole project resulting in a considerable expansion of the offshore wind potential in the Dutch sector of the North Sea.
In addition to this North Sea energy island, Denmark also has plans to develop a second energy island in the Baltic Sea which would have a capacity of 2GW by 2030.
By Dag Pike