At WISTA UK's second annual summer reception hosted by the International Maritime Organisation in London on midsummer's evening, June 21, women were told they needed to demand more and ask for promotions in what to now has traditionally been a male-dominated sector.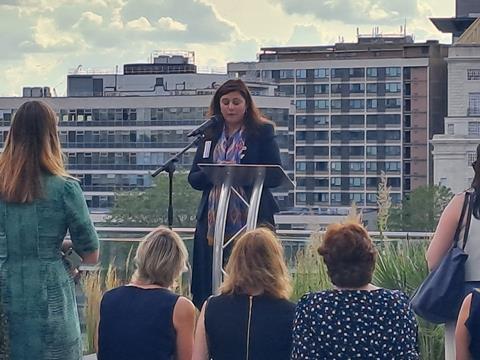 Formed in 1974, the Women's International Shipping & Trading Association (WISTA International) is global and connects female executives and decision-makers around the world, with a network of more than 3,800 female professionals from all parts of the industry.
Minister of State at the Department for Business and Trade Nusrat Ghani opened the speeches following an introduction by WISTA president Monica Kohli, and called on women to be more demanding to make sure barriers to progression were abolished.
Two awards were presented – the first to Petra Wilkinson, director of Maritime at the Department for Transport, for 'extraordinary dedication to advancing diversity and inclusion with the maritime sector'; the second to Kitack Lim, secretary general of the IMO, for showing 'a strong commitment to improving diversity within the industry'.
Two other speeches were made by Commodore Mel Robinson, who was appointed Commander of the Maritime Reserves in February 2020 after a 30-year career in the Royal Navy, and Baroness Vere, Parliamentary under secretary of state at the Department for Transport (Aviation, Maritime and Security).