How do you run a realistic oil spill disaster response drill without actually releasing any pollution?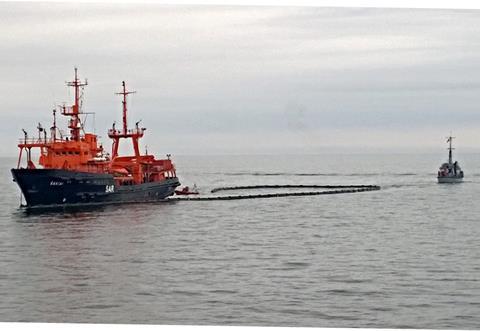 The answer, at least for HELCOM's annual Baltic Sea exercise, was popcorn – 10m3 of it.
It floats, disperses, and to all intents and purposes acts enough like an oil slick to simulate the release of 5,000 tons of crude oil from a collision between an oil tanker and a trawler, without damaging the location's highly sensitive natural areas.
The waters off the coast of Klaipeda, Lithuania saw no less than 14 ships from eight Baltic coastal states come together for the annual offshore Balex Delta drill, which have been held annually since 1989 to test out oil pollution responses in one of the most vulnerable and busiest waters in the world. This year the excercise was hosted this year by the Maritime Rescue Coordination Centre of the Lithuanian Navy: Igor Kuzmenko, chief coordinator of the exercise added "for the first time some countries' response vessels, from Denmark, Finland, Latvia and Poland, arrived straight to the spill area, 'on call', for added realism".
On land another large-scale national exercise focused on supporting clean-up unit deployment as well as coordination between the various parties.
By Stevie Knight