Work on the renovation of berth facilities in Brake is getting under way to meet growth in the north German Weser port, reports Tom Todd.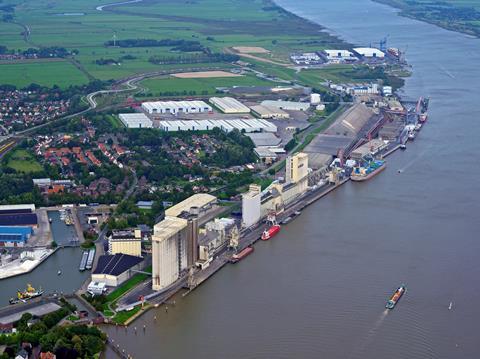 Spokeswoman Dörte Schmitz told Maritime Journal the berth work was part of an investment of about €8.5 million this year by Brake's owners, Niedersachsen Ports (NPorts).
NPorts said in March it was also ploughing a further €4.9 million into maintenance in Brake, which is just upstream from Germany's second biggest universal seaport complex Bremen/Bremerhaven.
Brake is a major handler of agricultural products, feedstuffs and grain. Prior to Covid they already accounted for 3.8 million of a total annual handling of 6.6 million tons. In an effort to build on that bulk handling strength, most of this year's investment cash is going into renovation at Brake's Südpier, a major bulk handling centre.
A second big ship berth was completed there in late 2017 and officials said it had proved to be "very significant" and had contributed to the success of the port" over the two following 'drought' years. Two ships each of 270m and drawing 11.9m can now be handled simultaneously at the berth,increasing ship and cargo volume.
Dörte Schmitz told Maritime Journal the renovation of the ship berth adjoining the one in use was getting underway by June. That berth was actually built earlier but damaged in 2017 in an accident involving the 28,180dwt bulker Mount Hope. Officials said the accident destroyed some 80m of the old pier and also damaged an inland ship moored alongside as well as the bulker.
Pile-driving was being followed by the replacement of 13 bollards and fender installations enabling ships to use both berths more flexibly. The project is due for completion by the end of 2022 or early 2023 with the repair of the Mount Hope damage for completion by year's end or early next year. German construction firm Hecker Bau is in charge.
The Südpier renovation is not the only project currently underway to up capacity in Brake. Dredging is also taking place at the port's Nordpier and Niedersachsenkai to maintain water depths for ships drawing up to 11.9m. The Inner Harbour, accessed via the Vorhafen lock, is also being dredged to ensure berthing for vessels drawing up to 5m.