US company Elastec, that specialises in oil pollution equipment, offers a portable balloon system that can be uses to monitor oil spills.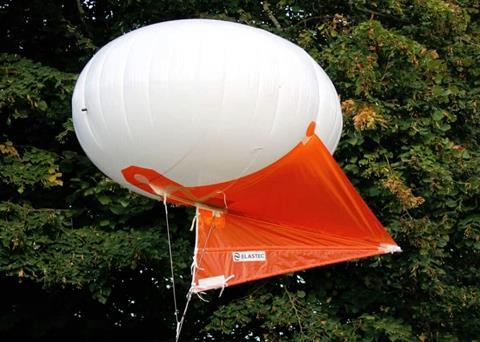 The Elastec Aerostat 3 is both lightweight and portable and incorporates a patented wing system that gives the balloon both stability and lift.
This unique surveillance system is supplied ready to go simply by adding helium as the lift medium. It can stay aloft for extended periods and can be flown without a license and with little or no training required. It was primarily developed to enable oil spill responders to provide real time monitoring of an oil spill so that the containment and oil recovery can be much more effective.
Elastec claims that the balloon is a lot more effective than using a drone because of its ability to stay aloft for extended periods and it is compact and relatively inexpensive plus it is safe enough to operate over crowds. The balloon can be equipped with a variety of cameras with a wireless downlink enabling real time monitoring.
The balloon has a capacity of 3 cubic metres and is made from sturdy orange fabric. It incorporates a radar reflector and a battery operated light so that both marine and aircraft can be aware of its position for safety. The tethering system is a 200 metre long Dyneema rope and the package comes complete with a regulator valve and contents gauge to fit the helium tank. The helium tank is not part of the supply package. A ground anchor is supplied so that the balloon can be fixed in location.
The camera is mounted on a 3-axis gimbal and it will lock onto a target and stabilise the image. The user is offered the option of high resolution still images or 4 K video and a joystick control allows the user to select targets and coverage.
The Elastec balloon has been primarily designed for monitoring oil spills but it has a variety of other potential uses such as monitoring work sites and aerial surveillance for security. It is one of a wide range of oil pollution and recovery equipment offered by the company which sells its products in 155 countries worldwide.
By Dag Pike