A cruise liner weighing almost 100,000 tonnes has made history at Portsmouth as the largest vessel to ever dock there.
With a length of almost 300 metres, Mein Schiff 3 docked at Portsmouth harbour on May 26, which port operators say marks a major milestone in the port's history.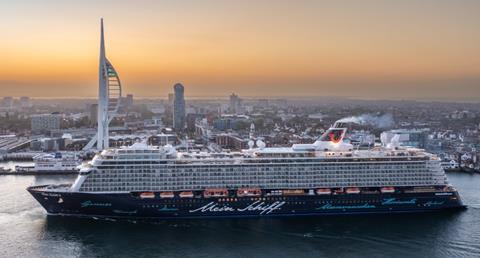 The cruise liner, operated by cruise line TUI, had 2,400 mostly German passengers on board as she sailed in to the harbour at 6.30am.
The arrival was made possible because of recent investments made to extend the berth, said port director Mike Sellers.
"The investment in extending our berth to accommodate larger vessels through to promoting the city's reputation as a destination has seen cruise activity grow year on year," he said.
"We outlined in our master plan where we want to be in the future, with a focus on sustainable innovation and working with partners who share our vision. It's fantastic to see real evidence of our plans taking shape and with more positive news to share over the coming months shows Portsmouth's position as a leading marine and maritime city."
"We've been working hard over the last few years listening to the industry and creating facilities that are required to become a leading cruise port, which meets our focus on the small to medium sized, boutique, luxury, expedition market," said Andrew Williamson, Portsmouth International Port's passenger operations manager.
"Investing in our infrastructure has been essential and we're now in a position where we can accommodate larger vessels in the bracket of 300m on our primary berth, in addition we can look after smaller vessels on multiple berths."
Portsmouth expects 75 cruise ship calls in 2023.