The Port of Aberdeen will work with contractor Subsea7 to investigate the feasibility of storing hydrogen under the water at the new South Harbour.
Named 'H2Shore', the project will investigate 'the most effective technological approach' to storing the gas and decide what location would be the most appropriate, as well as outline a business case, the port says.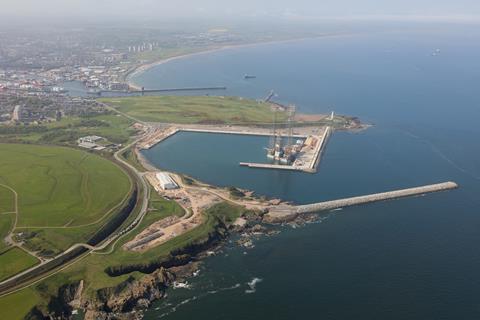 Hydrogen is one of the emerging contenders for alternative fuels but it has to be stored at cryogenic temperatures and requires a lot of space, which is partly why it has not gained much of a foothold yet.
Funding is being made available for 32 projects looking at ways to work with production, storage and distribution under the Hydrogen Innovation Scheme
"We are delighted to be working with Port of Aberdeen on this innovative hydrogen storage project," said Stian Sande, group strategy director Energy Transitio with, Subsea7. We are looking forward to exploring and evaluating suitable concepts with the goal of enabling and accelerating offshore hydrogen production, storage and infrastructure."
"Ports have a pivotal role in the transition to hydrogen technologies, contributing to the journey towards net zero emissions and serving as crucial infrastructure for hydrogen transport and trade," said Marlene Mitchell, commercial manager, Port of Aberdeen. "This initiative is one of many promising opportunities we're exploring to position Port of Aberdeen at the forefront of Scotland's burgeoning hydrogen economy."