Plans have been approved for a freeport development in Southampton on the UK's south coast.
The development of Marchwood Port, approved by the local authority but subject to a section 106 agreement, will modernise operations and facilities, create new jobs and investment opportunities, whilst improving capability and support to the Ministry of Defence.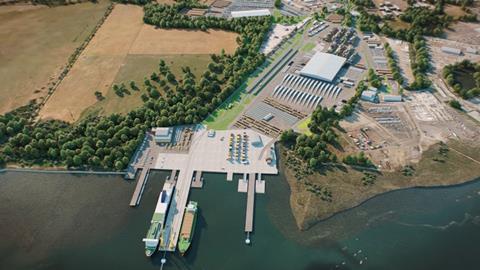 "We're delighted with the decision from New Forest District Council to give the green light to our application," said Solent Gateway Ltd's port director, Richard Parkinson.
"Our future plans together with the freeport tax and custom site status, puts Solent Gateway at the forefront of being able to benefit businesses for the long or short term.
"We have excellent import/export capabilities with supporting storage space and have space to accommodate new businesses that want to develop their own facilities inside a tax and customs site for import, manufacturing, assembly, storage, export or delivery into the UK."
Changes will improve biodiversity at the port by a reported 10% and include the creation of additional hard standing, improved site access with enhanced security facilities, new warehousing, welfare facilities and new cycle and walking connections.
The improvements will allow a wide range of cargoes and commodities to be transported through the port using its RoRo and LoLo facilities and stored on site.