Portugal's Naval Rocha shipyard has experienced a surge in activity in the opening half of 2018 after delivering a series of drydock, wet basin and pier-side projects.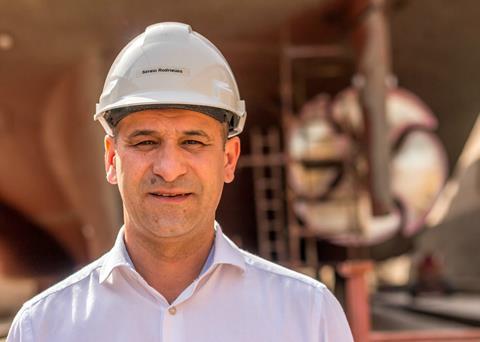 Key work has involved containers, cruise, passenger and sailing ships, cargo and research survey vessels, naval ships, anchor handing tugs, supply vessels and dredgers.
"Naval Rocha is a unique, modern shipyard," said Sergio Rodrigues, Naval Rocha commercial director. "We are located in a prime position in the centre of a European capital city which enjoys 300 days of sunshine a year. This provides ideal ship repair and conversion conditions and a vibrant cosmopolitan location for crew."
Vast experience
The yard has decades of experience in maintenance and repair work on all type of vessels, but it's perhaps the scale of the operation which sets it apart.
It has three drydocks and manages around 30 projects a year. Easy access to pier space along the River Tagus and other Portuguese ports including Setubal and Sines ensures the yard can manage vessels of any size and scale.
Work has been delivered on a series of research survey vessels including Ocean Diversity managed by Marine Projects in Rotterdam and NRP Almirante Gago Coutinho operated by the Portuguese Navy's Instituto Hidrográfico.
Work for Ocean Diversity involved a 're-start' project due to inactivity. The 40-day drydock involved maintenance to underwater systems, hull protection, steel modifications on deck, as well as hydraulics, machinery and piping.
The NRP Almirante Gago Coutinho meanwhile underwent general servicing and propeller repairs.
A second research vessel operated by Instituto Hidrográfico called Noruega is scheduled for drydock later in the year for sounding modifications.
By Anne-Marie Causer