A medium-range tanker is using new propulsion technology that could help ships achieve IMO 2050 targets.
Swedish designer FKAB's propulsion technology, which combines LNG with steam to produce hydrogen, could help ships achieve IMO 2050 carbon reduction targets.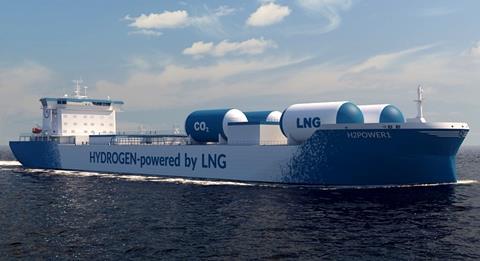 The hydrogen directly fuels the internal combustion engines and fuel cells, and all CO2 produced is captured by splitting the LNG molecules.
Because the hydrogen is created onboard, it means the tanker does not require portside hydrogen infrastructure, instead using fuel cells that have specifically been developed to produce more power in propulsion and fewer emissions.
A joint project between technology giant ABB and Greek hydrogen and energy firm Helbio, the system has been given approval in principle by classification organisation RINA.
RINA says it is the first to receive approval for using viable technology that achieves the IMO 2050 decarbonisation targets.
Because the design means hydrogen use can be progressively increased in a vessel, ships adopting the technology can qualify for a higher Carbon Intensity Index (CII) ranking set by the IMO.
"To meet CO2 reduction targets, shipping is faced with the challenge of having solutions which either rely on fossil fuels, but which still require technology to mature, or on new, zero carbon fuels, the availability of which is still far from being guaranteed," said RINA Greece Marine technical director Antonios Trakakis.
"This new design enables the use of hydrogen as a fuel today without the need for bunkering and storage on board and exceeds IMO 2050 targets for 70% reduction of carbon intensity."
All equipment can be fitted on deck, which means ship owners can convert existing vessels.
From 2023, certain CII requirements will take effect for all cargo, RoPax and cruise vessels above 5,000 GT.
These will include having in place an approved enhanced Ship Energy Management Plan that shows how CII targets will be achieved.