Transport for London has reported that problems with the hybrid power management systems fitted to two new hybrid electric ferries have been resolved writes Dag Pike.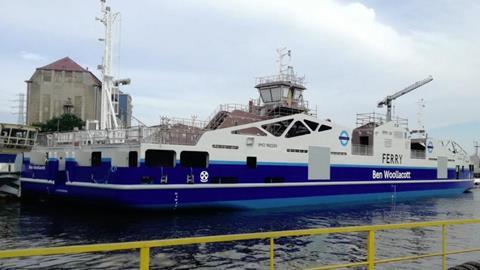 The power management systems have been a major factor in reliability problems that have affected the ferries since their launch.
The two new ferries were introduced onto the route at the beginning of 2019 after a major refurbishment of the terminals and it was hoped that the hybrid ferries would improve reliability and reduce noise and pollution. The vehicle and passenger ferries link the two sides of the Thames and included in the upgrading was an innovative automatic magnetic mooring system developed by Mampaey in Holland.
The contract for the new ferries went to the Remontowa Shipyard in Poland which has reported that the problems experienced with the new ferries are mainly issues with the functioning of the power management system. Following a period of adjustment of the system it is now reported that the ferries are operating as planned. Each ferry was fitted with a propulsion system comprising battery packages provided by Corvus, two diesel generators provided by Cummins with the propulsion comprising four electrically powered Hydromaster thrusters. These units were coupled into two hybrid electrical systems supplied by Norwegian Electric Systems to provide redundancy through converters forming a DC-grid system with four battery packages, two on each side of the DC-bus.
The required adjustments have now been completed successfully and currently both vessels are reported to be now operating as planned. Both TfL and London Mayor Sadiq Khan have publicly apologised for the delays and inconveniences created by problems with the vessels.
Danny Price from Transport for London commented, "A taskforce of engineers was created to resolve the power issues the hybrid engines have experienced. The Woolwich Ferry is an important part of London's transport and we take its operations very seriously, which is why we've invested in new vessels with much cleaner environmental standards and increased capacity."
It was reported that additional problems with the automatic mooring system were a combination of the high tidal range, the strong current and the level of mooring precision required and like the propulsion system these are also now reported as resolved.