The largest electric-hybrid ferry in Sweden is powered by two electric-driven POD propulsion units which enable it to operate with ease on a busy maritime route.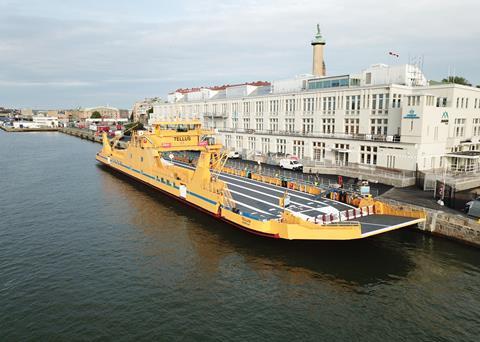 Commissioned by the Swedish Transport Administration and built by Baltic Workboats, the 100m-long Tellus ferry operates on the 1.8km-wide Gullmarsleden waterway between Uddevalla and Lysekil. It is fitted with the two propulsion units, one at either end of the vessel – so that it doesn't have to turn to go back and forth across the fjord.
Energy to the propulsion units is taken either from the batteries or from four Volvo Penta D16 MH engines. These engines drive synchronous reluctance assisted permanent magnet (SRPM) technology generators. These units can be driven individually or all four in parallel to optimise fuel consumption and emissions. These marine gensets have been supplied by the Baltic state Volvo Penta Centre BMG Power Systems.
Tõnu Kirs, managing partner at BMG Power Systems, explained: "Volvo Penta's engines were the perfect match for this project. Not only are they powerful and reliable but the servicing network is outstanding, especially in Sweden."
While there are four Volvo Penta D16 engines onboard, for the majority of the time the ferry usually only needs one engine to power its trips. The other engines are precautionary, needed only during tough weather and sea-ice conditions.
By Rebecca Jeffrey