The first new passenger excursion ship on Germany's Neckar River for almost half a century has gone into service out of Heidelberg and come in for swift praise for its modern design and low fuel consumption.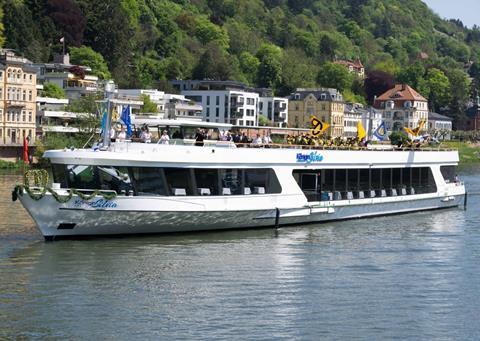 The 59.2m long and 10.6m wide Königin Silvia, drawing 1.1m, is named after Sweden's German-born queen, who comes from Heidelberg. It went into operation for owners Weisse Flotte after completion at the Lux Werft in Niederkassel 240kms downstream on the Rhine.
The new ship cost about €3.5 million to build and as well as being the first new passenger ship to go into service on the Neckar since 1969, it is also the biggest ship of its kind to operate on the river.
Heidelberg Weisse Flotte MD Karl Hofstätter also told Maritime Journal: "It is the first ship we have had built at Lux. The reasons for that are that it was built in a covered hall, ensuring the biggest possible delivery schedule reliability, also that the yard has specialised in passenger ships for 50 years and has an excellent reputation for building high quality and stable ships", he said.
Hofstätter also told this correspondent "you could also say that we are particularly proud of the ship's elegant design, its extremely low friction hull and the high speed which this allows us to achieve, as well as proud of its extremely low fuel consumption. It is also a very quiet-running ship".
Weisse Flotte said the ship's propulsion configuration had resulted in a fuel consumption that was even less than that of its smaller 41m long and 5.96m wide fleet sister Europa – which is put at 20 litres/hour.
Lux Werft MD Elmar Miebach told Maritime Journal that Königin Silvia was "very untypical" of the passenger ships that have served on the Neckar in the past. Among other things he mentioned its open plan interior design, an "unusual" kitchen located in the stern and the elastically sprung deck.
Further supporting the ship's charter marketing potential are glass panorama sides, a 24m2 entertainment stage, full air conditioning and modern conference technology as well as a lift for wheelchairs.
The ship is licensed for 600 passengers. It has two Volvo Penta D13 engines each of 370kW driving two contra-rotating Promarin propellers over ZF gearings. Its two power generators are Volvo Penta D7 units, each of 139kW. Soot particle filters have been installed at the request of Weisse Flotte.
Königin Silvia brings to seven the number of ships in the Weisse Flotte Neckar fleet. Asked if more newbuilds were planned, Karl Hofstätter said the fleet had been upgraded since 2009 and had reached an optimal size for Heidelberg. "A further ship would also create berthing problems", he noted.
By Tom Todd