With the completion of the placement of the caissons at the expanded cruise terminal at the Spanish port of Tarragona, the new Balears Wharf is now 40% complete.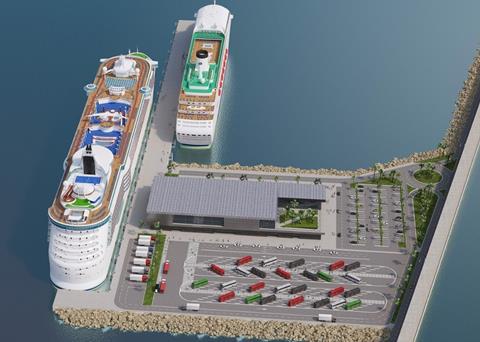 The new wharf is constructed from 11 caissons which are connected in double pairs to mark the wharf's new line. With the placement of the last of these caissons, work can now start on the development of the deck area and the connection to the existing wharf area in what will form the expanded cruise terminal at this port located just south of Barcelona on the Spanish eastern shore.
The concrete and steel caissons have been constructed in a floating dock, the Mar del Aneto and on completion each one was then floated off allowing construction of the next one to start. The completed caissons were then towed to the construction site and were located in position on the seabed which had been prepared with a gravel bed on which to position the caissons. Initially the caissons were flooded to keep them in position and will now be filled with dredged material to complete the installation.
The most complex part of the Balears Wharf construction project is coming to an end. The manufacture and placement of the eleven caissons took approximately three months from day one to the end of July. "Everything has gone smoothly", according to Carles Segura, the Port of Tarragona's director of Infrastructures and Conservation. "The final concrete foundation placement operation was completed in mid-October with the caissons being produced at the rate on one per week.
Each of the eleven caissons manufactured was 41.05 m long, 16.75 m wide and 21.30 m high. Empty they weighed 7,288.80 tonnes while their weight when full their weight is calculated to be 33,000 tonnes. More than three million kilos of steel was used to build the caissons.
When completed the new Balears Wharf will have a surface area of 4 hectares and some 700 linear metres of quay side moorings. It is has designated berths for cruise ships and is expected to come into operation in the middle of next year. It will allow several vessels to dock simultaneously and will also be able to handle the largest cruise ships.
By Dag Pike