German authorities are ploughing some €2 billion into long-term improvements on the Kiel Canal as the waterway records its lowest ship traffic and cargo figures for years, reports Tom Todd.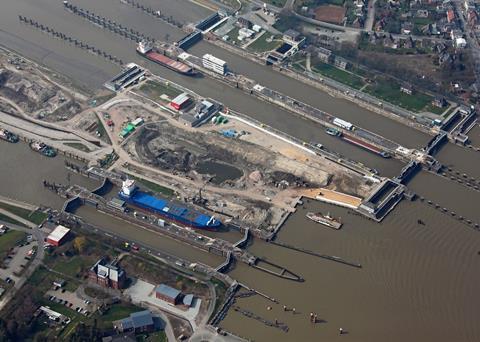 Professor Hans-Heinrich Witte told a function in Kiel the €2 billion had been earmarked by the Berlin Government for further long-term improvements and to increase the capacity of the canal – the busiest man-made waterway in the world. Witte heads the country's Waterways and Shipping Administration (WSV), which is the government agency responsible for the Canal.
He added that some €500 million were being spent right now on the 98 kms waterway, which runs between Brunsbüttel on the Elbe/North Sea and Kiel on the Baltic.
One priority project, he said, was the planned Fifth Lock in Brunsbüttel. It is designed to ease congestion on the canal, used by just 28,800 ships of 83.5 million tons last year. That's 5% fewer ships and some 4million tons less than in 2018. A main reason for the decline have been disruptions caused by repairs to ageing locks and by accidents in them.
The original cost of the 360m x 45m Fifth Lock was estimated at €270 million. When construction started in 2015 that had risen to €540 million with completion by about 2021. Later it became at least 2024 and €800 million. Just this year, the WSV acknowledged it would be "the end of 2026" before the lock would be finished at a cost of 830 million.
The cost increases and delays have been blamed on unexpectedly challenging construction works in Brunsbüttel and on legal disputes involving government and contractors.
The problems have reportedly centred on fears that ramming and anchoring of the new Fifth Lock chamber so close to existing old locks in Brunsbüttel might damage walls and chamber soles. An additional problem has been the need for expensive and time-consuming clearance of wartime munitions in an area targeted by Allied bombers in WW2.
Other current projects on the canal include lock replacement and renovation at the Kiel Holtenau lock complex, which will cost some €315 million, and the upgrading of the canal's eastern at a cost of €500 million. Preparatory undergrowth clearing work worth €120 million began on the first 4km section of that stretch in January.