New controllable pitch propellers from Otto Piening GmbH can now be operated using a water-based hydraulic system instead of oil.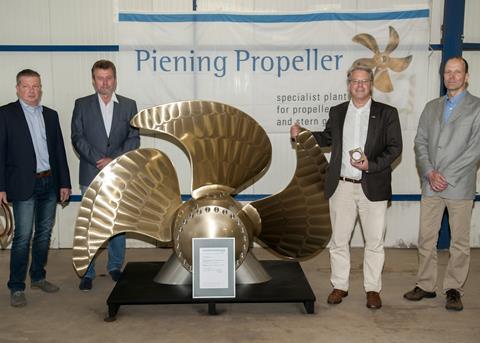 The environmentally-friendly system has been certified by classification society DNV GL, and approved for research, naval and coastguard vessels, as well as the megayacht industry.
Using water as a hydraulic fluid offers a range of benefits, including that it is cost-efficiency and can be easily stocked.
In the event of a leak in the system, no risk is posed to the environment and the vessel will be able to continue its journey.
The product has been developed since 2013 following numerous changes and customer demands, explained Mathias Pein, managing partner of Otto Piening GmbH.
He explained that the hub has been improved in terms of space but the structure has also been revised to allow for easier assembly and disassembly of the blades and pitch control mechanism. The blades can also now be mounted to the inside of outside of the hub using bolts.
Dr Olaf Richter from DNV GL presented the new certificate to Mr Pein at the Otto Piening GmbH's factory in Blomesche Wildnis, close to Glückstadt in Germany. This factory will manufacture the latest Piening Controllable Propeller (PCP).
The PCP will be unveiled to the public at SMM in Hamburg from 6 to 9 September.
By Alice Mason