Propulsion package deals have been announced for nine new pilot boats to be built by Goodchild Marine Services for ABP Ports.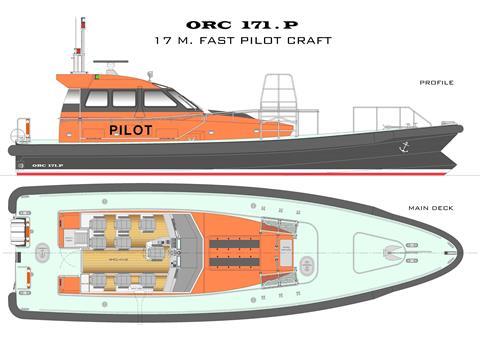 The fleet comprises three ORC-171 pilot boats and six smaller ORC-136 vessels which will serve around the UK in ports in Humber, Southampton and Barry in Wales.
MAN will supply the engines for the new vessels whilst marine drive technology company, MIT, has been selected to specify and supply the 18 freestanding gearboxes for the onboard power train.
Martin Jackson, sales manager at PME Group which is the UK and Ireland importer for MAN engines, explained more. "Part of the tender requirement was for a standard model of engine for both boat sizes and future proofed for Tier 3 legislation, reliability, good aftermarket support along with a comprehensive whole life service and repair analysis," he said.
"We proposed the D2676 as the most viable option, demonstrating that the whole life costings showed significant savings," he added.
Goodchild Marine Services chose the MIT Twin Disc MGX5136A Quick Shift gearboxes for both types of vessel, tailoring the power configurations to suit the differing needs.
"We were delighted to work on this project in conjunction with Goodchild Marine, specifying leading marine gears for all nine vessels in the new ABP fleet," said Dave Little, applications manager, MIT.
MIT will also supply Reich couplings to couple the Twin Disc gears to the MAN D276 marine diesel engines.
By Rebecca Strong