The power transmission technology category of the Hanns Voith Foundation prize this year went to Sören Schenke from the Hamburg-Harburg University of Technology for his master's thesis on the 'Assessment of Propulsion Efficiency for Hull-Propeller Systems'.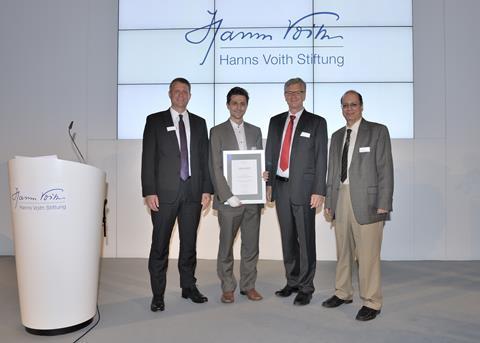 Mr Schenke developed a method for the efficient and accurate calculation of complex flow conditions which he achieved by combining a powerful RANS solver (volume based) with a very fast BEM solver (boundary condition based).
"Sören Schenke is a deserving recipient and the results of his work have considerable practical relevance to us," said Dr Dirk Jürgens, Head of R&D at Voith Turbo Marine.
In the thesis, Mr Schenke demonstrated that a minimum amount of modelling effort is necessary to achieve an accurate result. This means that fluid dynamics can be represented accurately and an industrial application facilitated at minimal effort.
In addition to this, Mr Schenke achieved the computation of a complex physical flow challenge, by drastically reducing the computation time by using a RANS solver and substantially improving the accuracy with a BEM solver.
The time consuming grid generation effort prior the numerical solution process is therefore reduced and the number of computational cells is minimised resulting in a fast and reliable calculation process that will be applied successfully in future industrial product development.
Voith said that the efficient calculation of complex flow problems is critical to Voith's power transmission division.
For more than 60 years now the Hanns Voith Foundation has been providing financial support to students of engineering and economics which are related to the Voith Group business activities.
By Anne-Marie Causer