A new design of universal joint introduced at Seawork International 2016 by Punk Couplings is set to revolutionise the world of universal joints. In the marine world these joints are mainly used on the shaft that links the gearbox to the propeller shaft with the universal joint allowing for any misalignment between the two components and to allow the engine to be installed on flexible mounts.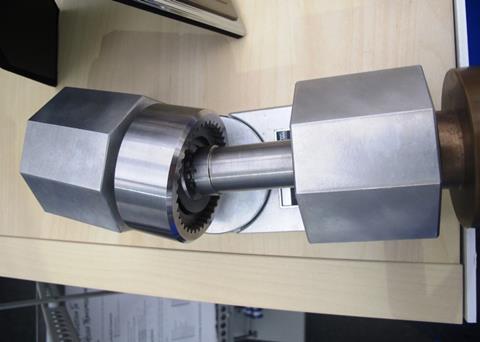 Currently there are two types of joint that can be used to absorb this type of misalignment, the universal joint with its spider like connection links, and gear couplings. Compared with the universal joint Punk Couplings claims that their system has a reduced parts count, it requires less space and it has an increased speed and torque capability. Compared with the gear coupling the Punk claims zero backlash combined with increased misalignment capability and torque transmission.
The Punk coupling comprises three nesting rings that have spherical mating surfaces creating a coupling that is effectively a spherical bearing inside a spherical bearing. It is these nesting rings that allow the respective shafts to vary in angle and each mating surface of the rings is fitted with keys or tongues on their periphery that engage with matching slots in the adjacent mating rings. It is these keys and their slots that are the parts of the system that actually transmit the torque through the bearing with the spherical rings allowing for the angular movement.
The whole unit is contained within a housing and the shaft and exit points are fitted with seals so that lubricant can be contained within the bearing. An alternative design that has also been patented by Punk uses a gimbal central section with radial bearing pins instead of the keyways. To complete the drive section and allow connection to the inward and outgoing shafts both the inner and outer parts of the bearing are splined for direct shaft connection.
The main use of these Punk couplings on work boats would be on the Cardan shaft that allows the engine to be flexibly mounted and still maintain connection to the rigidly mounted propeller shaft. Such Cardan shafts are widely used in the transmission systems where the engine is not close-coupled to the propulsion unit. The Punk Coupling housing can also be flexibly mounted if required to help isolate it from the structure of the boat and to reduce the transmission of noise and vibration.
The name Punk derives from the curved keyways fitted to the spherical rings that are used to transmit the torque. These stand proud of the surface of the rings and curve just like the Mohican hair cut favoured by some enthusiasts of this lifestyle choice, hence the rather tenuous connection to the name. Punk Couplings won this year's Seawork Marine Engineering Innovation Award.
By Dag Pike