MAN Diesel and Turbo has recently completed a turbocharger refit within five weeks from the first enquiry to turbocharger commissioning.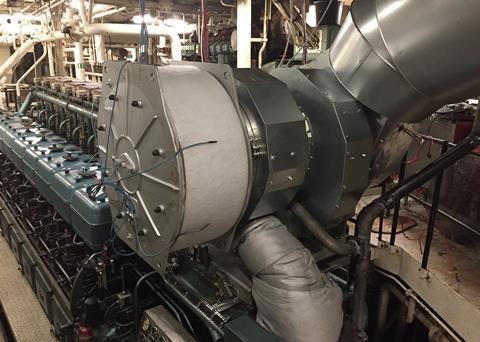 The Faeroese trawler, Sjurdaberg, has successfully operated in the North Sea for over 30 years and is equipped with a 1984-built MAN 9L28/32A Alpha engine and NA34/K turbocharger.
Work was carried out in Frederikshavn, Denmark by MAN Diesel & Turbo, in close cooperation with the turbocharger retrofit department in Augsburg.
Gottfried Eberle, head of turbocharger retrofit at MAN Diesel & Turbo – said: "During the retrofit, we replaced the original axial MAN NA34/K unit that had served so well with a modern, radial MAN TCR20 turbocharger."
"The main advantages of the new turbocharger are its small size and efficiency, and its short reaction time in the event of load changes. The Sjurdaberg has really gotten a new lease of life."
During a large-scale overhaul of the Sjurdaberg's engine, it transpired that a turbocharger retrofit was needed for the MAN TCR20 turbocharger as long-term solution for the vessel.
As well as this, the exhaust-gas pipe had to be fitted to the new turbocharger. The assembly pieces were manufactured on-site in Frederikshavn in a very short time with the retrofit completed in just 10 days.
By Alice Mason