Towing companies are regularly called upon to move unusual objects and it was the turn earlier this year of two UK-based companies to transport a commercial aircraft from an airport in Ireland to a camping site further north.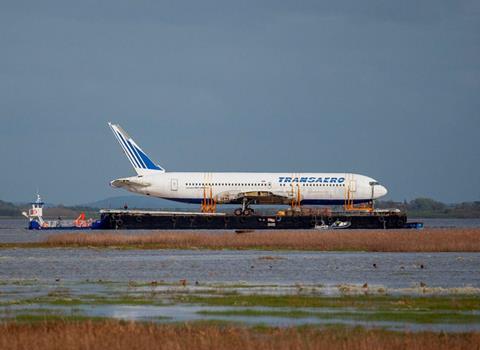 Falmouth-based Marine and Towing Services Group Ltd (MTS) and Southampton-based Williams Shipping Ltd have been involved in delivering a Boeing 767 aircraft from Shannon Airport to its new home at the 'Quirky Glamping' site in Enniscrone, Republic of Ireland. The aircraft is to become a new attraction at the site with guests able to spend a night sleeping in the plane.
The event attracted international media interest and MTS allocated its Damen Shoalbuster 3009 MTS Statum for the operation. Built in 2008, its shallow draught and 48 ton bollard pull makes it ideal for large and complex tows involving navigating estuarial and shallow waters such as for this contract.
Williams Shipping's contribution was to provide its flat top pontoon Wilcarry 1500. Built in Arkangelsk Russia by Neptune Marine Services in 2002 the 50m long barge with a maximum deadweight capacity of 1,280t and loaded draught of 2.32m again made it ideal for transporting the aircraft. Wilcarry 1500 is also equipped with two 20m spud legs.
The operation first required MTS Statum to sail to Southampton to pick up the Wilcarry 1500 before sailing to Shannon Airport to pick up its load. Once the 70 tonne aircraft was on the barge the journey north to Enniscrone via the Atlantic coast was completed successfully, a journey taking 36 hours. Once at Enniscrone the aircraft was taken off the barge and transported by road to its new home.
Steve Bendell, Commercial Manager, MTS said: "This latest charter shows just how versatile our operational fleet really is … It's fair to say that wasn't out first 'quirky' charter and won't be our last, owing to the range and capabilities we have for the vessels in our fleet."
Williams Shipping has been established for 120 years and of late expanding its marine and logistics services. The company offers a diverse range of services and equipment including: marine services and vessel charter; road transport vehicles; container, modular building and accommodation supply; storage and warehousing and marine lubricant distribution.
Of interest to this column is its marine division offering a wide range of services including: craneage; dive, dredging and marine civils support; anchor handling; oil spill response; project cargo; road transportable workboats; safety boats and windfarm and renewables support.
Williams Shipping's port services are worthy of mention. It is particularly active at its home port of Southampton offering services including provision of passenger transfers via fast passenger vessels. To put the scale of the operation in context Southampton's four cruise terminals are expected to handle a record 462 ship calls in 2016.
It also has a presence at Pembroke Dock in south west Wales where activities include a ship's stores delivery service for vessels anchored or at terminals in Milford Haven and St Brides Bay.
Looking closer at its fleet list Williams Shipping has a diverse mix of tugs, workboats, barges and pontoons. Tugs include the Damen Stantug 2207 Willpower, Stantug 1605 Wilanne and Triton class Voith tractor tug Lilah. A more recent addition is the 23m LOA, 15tbp Joli L, on charter from Neptune Shipyards.
The fleet also includes six multipurpose workboats three of which are shallow draught road transportable and particularly suitable for working in inland waterways. The largest, Willendeavour is a 22m Eurocarrier 2209 design built by Neptune Marine BV in 2007. Two 9m and 11m workboats and a fast passenger launch are also available
Finally, Williams Shipping has thirteen Wilcarry class transport barges at its disposal. The largest is the Wilcarry 1750 which is 45m long by 20m wide and, as its name suggests has a capacity of 1,750t. The Wilcarry 1500 mentioned in the aircraft tow above is a member of this family.
By Peter Barker