Radio Holland Group has entered into a cooperation with US-headquartered ICT giant Cisco Systems Inc. to boost digitization within the global maritime sector, covering remote monitoring and diagnostics services, data management and networks on board.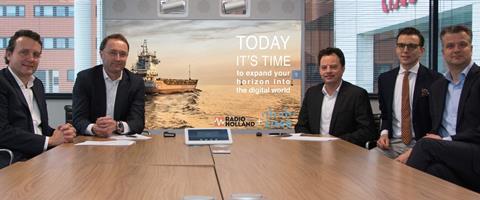 Dennis Mol, Chief Operations Officer at the Radio Holland Group told Maritime Journal: "We aim to translate 100 years of Radio Holland's experience into the right 'dashboards', creating useful information which will allow our customers to optimise their operations and to give them optimal support. Radio Holland sees opportunities to improve the unlocking of data on board in line with the trend of the 'Internet of Things' and to optimize the data connection between ship and shore. With our knowhow in maintenance processes we are also continuing to develop predictive maintenance concepts."
"For Cisco, the cooperation with Radio Holland Group is an excellent example of the course we set in our market approach. Our cooperation offers opportunities to develop, implement and effectively manage sector specific solutions. The development of the maritime sector also seamlessly connects to the initiative announced by Cisco last week, to establish an investment fund in cooperation with the Dutch government to stimulate Digital Acceleration of The Netherlands," said Edwin Prinsen, Managing Director Cisco Netherlands.
By Jake Frith