The innovative Icelandic hull design team of Rafnar has been invited to develop designs for replacement craft for the Icelandic fleet of search and rescue craft writes Dag Pike.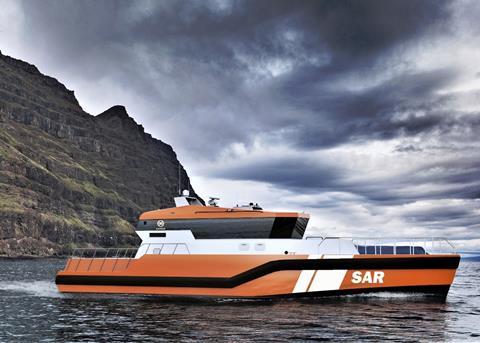 The Icelandic Association for Search and Rescue (ICE-SAR) is an umbrella organisation for the local SAR teams around the coast and they currently operate a fleet of 12 Arun Class lifeboats based on the RNLI design as well as smaller RIBs that have been supplied by Rafnar. The Aruns are now in need of renewal so ICE-SAR has defined three categories of search and rescue craft for future requirements. These are sized at 11 metres, 12 to 15 metres and +15 metres. Rafnar has been approached to develop the designs of the two larger categories of SAR vessels.
Rafnar is currently working on the design of the proposed 15 metre vessel shown in the picture and it will also work on the 12 metre design, both of which will be based on the innovative and patented Rafnar hull design that features a unique underwater shape that is claimed to offer superior seaworthiness. This design process will be completed next year after which several builders will be approached to handle the building of the vessels. These building yards may be Rafnar affiliated yards or others and the choice of building yard is likely to be selected by ICE-SAR.
This fleet renewal will comprise 13 boats in total and the project is likely to cost €15.2 million. It is thought that up to half of this amount will come from the state treasury. Rafnar has been granted €529,000 from Iceland's Technology Development Fund to finance their work on the development of this project.
Jón Svanberg Hjartason, the Director of ICE-SAR commented, "We work closely with the Icelandic Coast Guard and on their responsibility in search and rescue at sea so it all plays together. This project could cost up to ISK 2 billion and ICE-SAR cannot handle that amount by itself. But it is a pressing issue and I think that everyone realises that response and rescues have to be updated to reflect what social conditions call for."
The waters around Iceland have some of the toughest sea conditions in the World particularly in the winter months.