A wireless personal area network for divers has been expanded to include diver to diver communication raising the bar in underwater wireless control systems.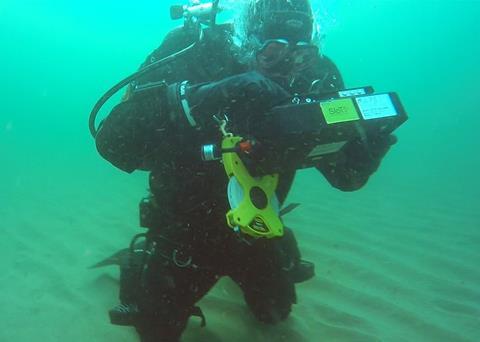 Seatooth's latest generation Seatooth Wireless Communication and Control System (SWiCOM) is based on a Seatooth enabled marinised tablet. It claims to provide secure and reliable text communications between divers in all operating environments.
"Seatooth SWiCOM is an innovation SIoT system that raises the bar on diver communications and control. It opens the way for communications in the most challenging situations and to real time diver health monitoring," said Brendan Hyland, founder and chairman of WFS Technologies.
He said that the wireless personal area network is designed to support propulsion systems and health monitoring sensors.
The range of the diver to diver comms using text messages has been increased from 5m to 9m.
WFS Technologies has also developed a retrofit upgrade for the Patriot3 Jetboots diver propulsion system.
The first generation of Seatooth SWiCOM was launched in early 2017, and the latest generation of the system has been improved following customer feedback which also requested an enhanced user interface along with the extended communications range.
WFS Technologies is a global leader in Subsea Internet of Things (SIoT) products and solutions for the offshore oil and gas industry. But it also works with customers in the offshore renewables, environmental monitoring, security and consumer industries.
To date, it has delivered more than 6,000 wireless systems globally and Seatooth technology is designed into many third-party systems.
By Anne-Marie Causer