Danish marine engineering consultancy Ramboll has been appointed as Technical Advisor for British Antarctic Survey (BAS), to support projects in the Antarctic region and in the UK.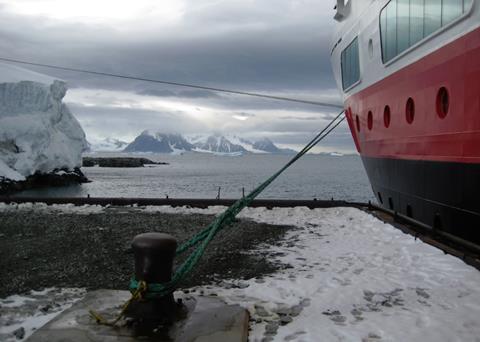 In 2019 one of the world's most advanced Polar research ships - the RRS Sir David Attenborough – will be ready for operation. Commissioned by NERC, built by Cammell Laird, and operated by BAS, this new ship will ensure UK polar scientists remain at the forefront of climate and ocean research. Government investment in the new ship includes funding for a series of projects to improve and modernise Antarctic research station infrastructure. Ramboll has been appointed by NERC to provide BAS with specialist engineering and consultancy services for seven years.
Initially Ramboll will undertake technical research to develop options for the replacement or upgrade of existing wharf and jetties at BAS Antarctic and subantarctic research stations to enable safe and efficient berthing and mooring of the new ship and its cargo tender. Specialist technical advice is being given also to the team responsible for relocating BAS's Halley Research Station on the Brunt Ice Shelf and on a number of other building, energy efficiency and logistical projects, drawing on Ramboll's experience of infrastructure projects in the Arctic and Antarctic.
This exciting new role presents various engineering challenges given the Antarctic continent is the coldest, driest, highest and windiest on the planet, and construction season usually only runs from December through to March. The multidisciplinary team at Ramboll will be carrying out surveys and onsite support in the world's most harsh climate with temperatures ranging from 5oC to -60oC.
Speaking on Ramboll's appointment, Tim Stockings, BAS Director of Operations said: "The UK Government is making a major investment in Britain's polar research capability. The commission by NERC of the RRS Sir David Attenborough provides an opportunity to modernise and upgrade our Antarctic infrastructure. The appointment of Ramboll brings specialist expertise to our in-house teams. We look forward to working together to develop and deliver well-engineered facilities that meet our shared ambitions for sustainability and excellence."
By Jake Frith