A rare opportunity has arisen for the offshore wind industry to charter one of Tidal Transit''s purpose-designed crew transfer vessels (CTVs).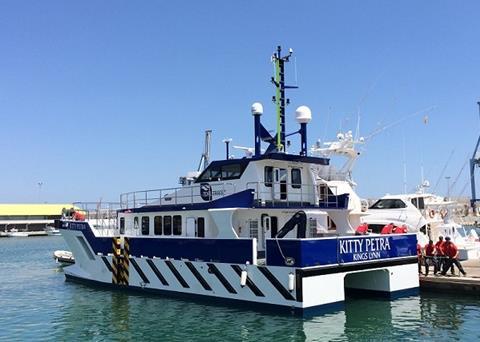 Since joining the Tidal Transit fleet in June 2014, Kitty Petra has been in continuous use (99% asset utilisation). She was delivered at 2014's Seawork exhibition and since has been under long term charter at Innogy's Gwynt y Mor Offshore Wind Farm, off the coast of North Wales, and at Ørsted's Westermost Rough Offshore Wind Farm.
Kitty Petra has been involved in both the 24/7 construction phase and the 12/7 O&M phases of the wind farms with over 25,000 safe transfers to her name.
High utilisation
"Our CTVs have an impressive utilisation and reliability record of which we are incredibly proud," said Tidal Transit's commercial director, Leo Hambro.
"At the end of 2019, the combined utilisation of our vessels since new stood at 88.61%, including mobilisation/demobilisation time, whilst the combined client availability of those vessels whilst on charter was 98.64%."
He added: "At 99.59% client availability whilst on charter, Kitty Petra has an excellent track record."
Kitty Petra is currently berthed in Mostyn, North Wales and is ready to mobilise to UK or continental ports.
Norfolk based Tidal Transit has been providing purpose-designed CTVs to the offshore wind industry since 2011, playing important construction and O&M roles at sites including Sheringham Shoal, Greater Gabbard, Westermost Rough and Gwynt y Mor, as well as providing survey support at the far from shore sites of Dogger Bank and Hornsea.
By Rebecca Jeffrey