An innovative new project aimed at developing and demonstrating critical components for the monitoring, control and electrical connection of reliable Ocean Energy Arrays (OEAs) has recently moved from concept development to the testing and demonstration phase.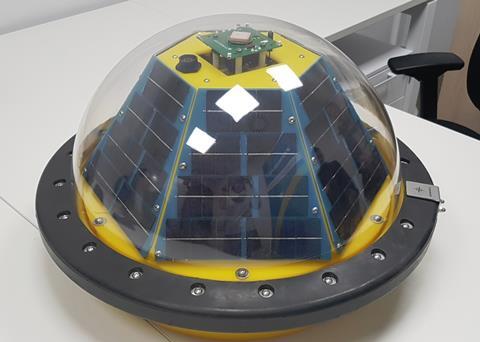 The European Union (EU) backed RECODE project aims to answer the challenge of identifying common components in ocean energy technologies by developing a set of industry enabling cost effective components, specifically designed for the reliable and sustainable delivery of ocean energy. In doing so, the project team has drawn together a number of organisations active in the marine energy sector across Europe - including the Spanish testing laboratory Tecnalia, the UK Offshore Renewable Energy (ORE) Catapult and Cluster de Energia, as well as Ditrel, SMARTBAY Ireland, offshore renewables company WaveEC and Spain-based floating platform manufacturer Zunibal.
As Vicki Coy, ORE Catapult Project Manager with responsibility for the RECODE project, explains, the components currently under development range from a safety monitoring and control device and a wave measurement buoy to an umbilical cable monitoring device and an underwater device to cable connector for a floating energy converter.
Zunibal - which is responsible for heading up work focused on the development of the safety monitoring and control device and the wave measuring buoy - has already deployed the safety monitoring and control device, where it is currently undergoing testing at the Bimep ocean energy test site, just along the coast from Bilbao in Spain.
"The hull development for the wave measuring buoy has also been completed, and the work on the mooring and anchoring is progressing, with the electronics currently under lab testing. The buoys, complete with the electronics, will be deployed at Bimep for testing in the next few months," says Coy.
Meanwhile, Coy reveals that Ditrel - which is leading a Work Package to design a device to cable connector - has already manufactured the necessary housings, with the device currently undergoing six months of wet tests, also at Bimep.
"The project is still in the testing and demonstration phase, after which the results will be assessed," she adds.
In Coy's view, initiatives like this - and others like it - are crucial to the ongoing development of the European marine energy sector, particularly because many ocean energy technologies are now moving steadily away from laboratory scale models towards 'real scale' prototypes and arrays of converters.
"Delivering reliable and cost-effective technologies will be paramount to the ultimate commercial success of the European ocean energy industry - and therefore identifying common components will help reduce costs by driving down both capital expenditure (CAPEX) and operational expenditure (OPEX), and ramping up volume manufacturing," she adds.
By Andrew Williams