The major £3m refurbishment of Red Funnel's ro-pax ferry ''Red Eagle'' is now well underway in Southampton UK. The contract was awarded to Southampton Marine Services (SMS) with interior fitout by Trimline and aluminium fabrication work contracted to Wight Shipyard Co in East Cowes.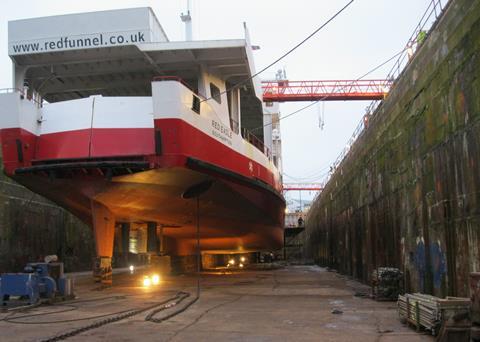 Red Eagle was recently dry-docked at A&P's yard in Falmouth for its annual survey and painting of the hull and superstructure.
The opportunity was also taken to strip-out the existing passenger lounges in preparation for the main part of the refurbishment to be undertaken by Southampton based Trimline Ltd.
Up-to-date
The fabrication of the aluminium shells which will form the two new lounges on A Deck was entrusted to Wight Shipyard Co, another local supplier based in East Cowes.
These two lounges are being transported by barge to Southampton in preparation for being lifted on board imminently.
Red Eagle's refit will bring the interior right up-to-date and provide customers with a class-leading travel experience.
The project will see a significant increase in the number of internal seats as well as a new galley, new toilets, a new pet lounge and a purpose-built Signature Lounge offering a premium club experience.
Modern seating styles and tables, subtle colours and clever LED lighting will create contemporary spaces which will be well-suiited for socialising, working or just relaxing.
High-capacity Wi-Fi, USB charging points, air conditioning and digital entertainment are just a few of the new features that will be available to everyone on board.
Red Eagle's new look will be revealed in March 2018 when the ship returns to service between Southampton and East Cowes.
By Anne-Marie Causer