UK, Solent ferry provider Red Funnel's high speed passenger ferry 'Red Jet 3' has undergone her annual survey and refit with Wight Shipyard Co at East Cowes on the Isle of Wight marking the first time the vessel has been refitted on the Island since it was built there by FBM Marine.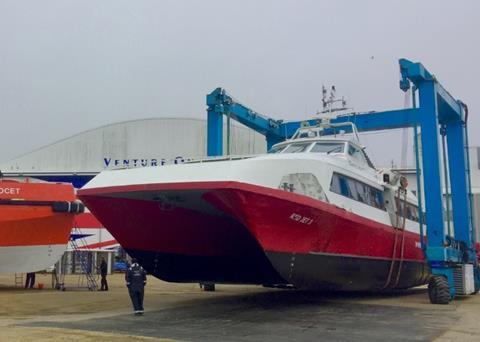 The scope of work on the 1998 Cowes built catamaran involves inspection of the hulls, removal and refurbishment of the twin MJP waterjet units, painting, antifouling and re-certification.
Peter Morton, CEO of WSC, said: "In addition to our current new-build work for London based MBNA Thames Clippers, we have been successful in winning a number of important refit contracts. This valuable contract from Red Funnel demonstrates our unrivalled skills base and competiveness in the fast ferry repair market."
Also receiving WSC attention at time of writing was the 21 metre Njord Offshore crew transfer vessel Njord Avocet which called at the yard while on passage from Germany to the Irish Sea.
Wight Shipyard Co (WSC) is a high speed craft and aluminium ship builder with state-of-the-art facilities on Britain's Isle of Wight. Offering full turnkey solutions WSC passionately seeks to redefine how fast ferries are built through innovative design and quality construction. In 2016 WSC delivered Red Jet 6, a new 40 metre high speed passenger ferry for Red Funnel. Operating the Isle of Wight services between Southampton and Cowes, this first fast ferry to be built in Britain in over 16 years was delivered on time and on budget.
By Jake Frith