With every vessel using some form of onboard refrigeration or climate control, new laws by the Council of the EU to slash greenhouse gases mean the maritime industry must take action fast, says UK-based Flynn Refrigeration managing director Alex Flynn.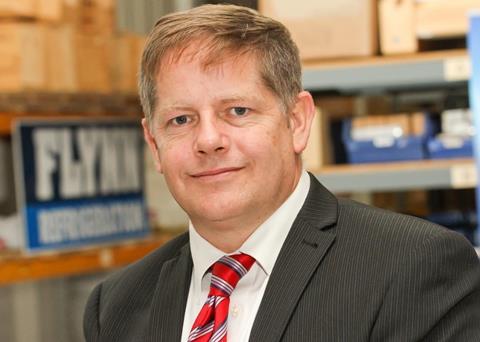 The phasing out of refrigerants with a high Global Warming Potential (GWP) is required by the EU to cut the world's greenhouse gases from a figure recorded as 100 per cent last year to 21 per cent in 2030.
One of the most popular refrigerants is the colourless gas R22 (chlorodiflouromethane or HCFC-22) which the EU banned after the revised Flourinated Greenhouse gases (F-gas) Regulation became law, so alternatives are required.
Ship operators can use equipment already containing HCFCs, but it is now illegal to use any HCFCs to service or maintain refrigeration and air-conditioning systems. However, recycled refrigerants can be used within existing systems until 2030.
To meet these changes, Flynn upgraded its services including globally expanding its engineers' network and establishing partnerships in ports at Singapore, Oman, Dubai, France, Holland, Korea, Australia, Germany and Denmark.
Already Flynn has undertaken conversions on vessels berthed from Liverpool to Oman. An R22 conversion on a specialised refrigerated cargo vessel involved reviewing the entire cargo refrigeration plant, air conditioning AHU (air handling unit) and replacing all provision room compressors, and converting to R417A.
It also delivered a major package of improvements to the refrigeration and air-conditioning.
The extensive refrigeration and air conditioning work took 18 months to complete on board the vessel at Barrow-in-Furness, Cumbria, and was part of a wider scale upgrade.
Flynn's service included the conversion of the Lightfoot cargo refrigeration system, which was entirely retrofitted using DuPont ISECON R417A refrigerant. The air handling system supply was replaced and new refrigeration and air conditioning equipment installed in areas including the control room.
There are various alternatives to R22. Firstly, there is the "drop in" solution which involves replacing only the R22 with another synthetic refrigerant. This involves changing shaft seals and O-rings.
Secondly, the "retrofit", which involves replacing the R22 with another synthetic refrigerant. This requires changes to the lubricant, shaft seals, O-rings and other gaskets to seal the plant.
Thirdly, there can be the replacement of R22 with a synthetic HFC refrigerant system. This has a short installation time and is reliable, but it still has a high environmental impact.
Fourthly, the R22 can be replaced with a new, natural refrigerant. The most environmentally friendly option, this is highly efficient and has the lowest power consumption.
There is no firm information yet on whether the UK's departure from the EU will affect its adherence to such EU targets, but the likelihood is high that the UK will retain or replicate existing environmental legislation.
By Jake Frith