Svitzer, Kongsberg Maritime and classification society ABS have signed an agreement to jointly develop RECOTUG, the 'world's first fully operational and remotely-controlled tug'.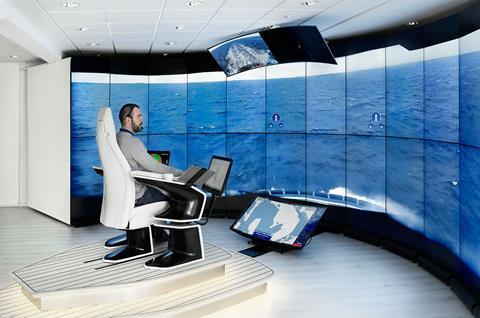 While Svitzer states it is several years away from seeing remotely operated tugs in commercial operation, the collaboration could be seen as an important step towards a tug performing towage operations remotely controlled from an operations centre ashore. Kongsberg believes digitalisation and enhanced automation are vital for sustainability and a profitable future for the maritime industry.
The collaboration brings together Svitzer's operational experience, a newbuild tug with crew and tug-specific solutions with Kongsberg's remote-control and autonomous technology and finally the expertise and guidance from ABS necessary for regulatory approval. Svitzer is well positioned operating extensively in the near-shore environment of harbour towage.
The project is expected to run 'for the years to come' leading to Svitzer conducting commercial remote tug operations in the Port of Copenhagen, a natural continuation of the first Svitzer/Kongsberg Maritime (formerly Rolls-Royce Marine) project from 2017. This involved remote navigation of the tug Svitzer Hermod in Copenhagen carrying out non-towage manoeuvres from the quayside where the vessel's master, located in a remote operating centre berthed the tug alongside, undocked, turned 360' and undertook a short passage before safely berthing again, Svitzer Hermod was manned throughout the trial.
Kongsberg are involved in several projects that 'define the remote and autonomous vessel control systems for tomorrow' this venture taking work a step further by integrating these key technologies into a new context of operation.
For ABS, chairman and president Christopher Wiernicki, said: "As a data-centric organisation, ABS is a leader in the maritime application of digital technologies. As safety moves away from the things you can see and touch, to things you cannot see such as software and data, ABS has been spearheading development of next generation safety approaches that draw on our expertise as a technical integrator. As a result of this tradition of constant innovation, we are uniquely well placed to support this project, which is genuinely breaking new ground for the entire industry. Greater industry collaboration is going to be key to meeting the challenges of digitalisation and maritime sustainability, so ABS is proud to be part of a team that has such a significant role to play in shaping the direction of both."
By Peter Barker