A platform to enable hybridization of ocean based renewable energy production by combining wave, wind and PV is now available for project developers around the world.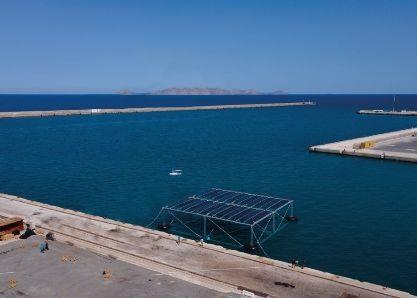 SINN Power's Ocean Hybrid Platform (OHP), the world's first modular, multi-functional maritime structure, is currently equipped with 192 PV modules (72 cells) rated at 390Wp each, provided by project partner Schmid Pekintas (Turkey), and will be complemented with 4 Huracan wind turbines (10kWp each) by LuvSide (Germany) in Q1 2021, followed by 4 SINN Power wave energy converters (WEC) in 2022.
Dr.-Ing. Philipp Sinn, CEO and founder, said: "The entire team has done a phenomenal job in the past years and I am proud that our technologies are now finding their way into the market."
Heraklion Port demo
SINN Power's demonstration project of the OHP was deployed in proximity to Heraklion Port in Greece, where SINN Power operates its R&D facility, in October 2020.
The OHP is designed to withstand breaking waves of up to 6m and offshore waves up to 15m, and the structural integrity of the platform in the maritime environment has been tested at the breakwater wall since 2015.
Combining different energy sources and LFP storage solutions is made possible by SINN Power's ModTroniX (MTX) - the world's only IP68 rated power electronics for deployment in harsh conditions.
The modular design means components of the OHP are easy to ship. All components come pre-fabricated and the on-site installation is limited to plug&play tasks. Additionally, hot-swapping is available for all components, which enables repairs and replacement of components without shutting down the entire OHP.