Belgian windfarm concession holder Rentel NV has chosen Siemens NV as its preferred bidder for the supply and installation of 42 of its offshore wind turbines, also involving a 15-year maintenance agreement.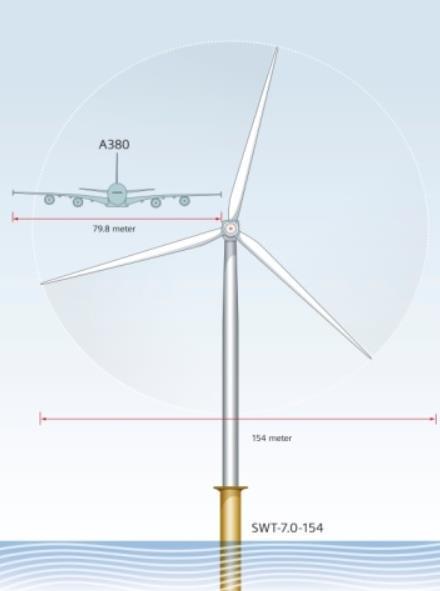 The final negotiations with Siemens include both the supply and installation works. Model of choice is the SWT 7.0-154 model, a turbine with an installed capacity of 7 MW, the largest ever within the Belgian North Sea (hub height of 106 meters and rotor diameter of 154 m, being the span width of two A380 airplanes). It will be the first wind power plant in the Belgian waters with a so-called 'direct drive' (without gearbox), connecting its rotor directly to the generator.
By choosing Siemens' offshore wind turbine technology, Rentel says it sets a decisive step towards the realisation of a new Belgian offshore wind farm of 294 MW, located at +/- 35 km off the Belgian coast. The estimated annual production of more than 1 GWh corresponds to the annual consumption of 288,000 households, or 50% of the Doel 1 nuclear power plant.
Prior to this year end, Rentel will furthermore finalise negotiations for the foundations, cable works and the high voltage platform. The Project is set to complete its project financing by summer 2016 for an amount of 1,250 million euros, where after the construction period is clear for take-off. The first turbines will supply their green power as from 2018, and become fully operational by end of 2018.
The Rentel offshore wind farm is necessary for complying with the Belgian 20-20-20 climate targets. Therefore, Belgian authorities are a crucial partner in this Project, given that the need for a stable regulatory framework is a must for this type of long term infrastructure projects.
The Rentel project will become the 4th complete Belgian offshore wind farm within the Belgian North Sea, and shall contribute to Belgium's leadership role within offshore wind energy, the achievement of the EU climate standards and even security of energy supply in Belgium.
Rentel says the Project will contribute to Belgian employment to the tune of 2,000 FTE during construction phase and 100 FTE once operational.
Rentel NV is part of the Otary partnership, equally uniting various Belgian specialists in renewable energy including investment and development companies Rent-A-Port and Power @ Sea, dredging and marine engineering specialist DEME and green energy players Aspiravi and Elicio. Furthermore, the Walloon environmental holding SRIW Environnement, and the Flemish and Walloon energy and utility holding companies Z-Kracht/Nuhma and Socofe are shareholders of the company as well.
Next to the Rentel concession, Otary also holds the concession for construction of the future Seastar offshore wind farm and is part of the consortium developing the Mermaid offshore windfarm.
By Jake Frith