A recent report by Ireland''s Marine Renewables Industry Association (MRIA) concludes that marine energy could be ''mainstream'' in Europe by 2050 - and supply up to 100 GW of power. It also argues that there is now a need for a comprehensive funding plan to enable Ireland and other European countries to reap the full benefits of such strong potential.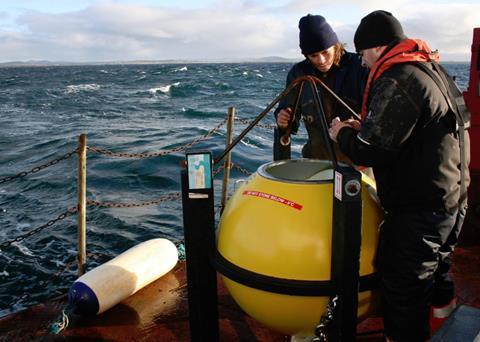 As Peter Coyle, Chairman of the MRIA, explains, one of the main aims of the report, Funding the Development of the Ocean Energy Industry in Ireland, was to establish a strong case for the government authorities in the Republic - as well as states around Europe more generally - to support emerging and highly promising wave and tidal energy technologies.
"This was based on the well documented views about the enormous long term potential impact of ocean energy in economic and job development terms, views put forward by authoritative bodies such as the Carbon Trust and Ernst & Young," he says.
After setting out this case, Coyle reveals that the report then moves on to identify the next necessary funding initiative for Ireland - which he describes as 'financing to bridge the gap which emerges between device developers resources and needed funding at about the fourth technology readiness level.' This level, also known amongst experts as TRL 4, equates to a technological development phase that occurs after feasibility has been proven but before companies are able to move ahead with demonstration activities.
Pre-Commercial Technology Fund
In particular, the report recommends the creation - from a pot of future funding tentatively identified in Ireland's Offshore Renewable Energy Development Plan - of a Pre-Commercial Technology Fund (PCTF), which Coyle says would be based on the Wave Energy Scotland (WES) model, but 'amended to meet local conditions, incorporate tidal and to take account of 'learning's' from the WES experience so far.'
"The PCTF would complement the existing, typically early stage, Prototype Development Fund," he adds.
The report also suggests that Ireland's Sovereign Fund (the National Treasury Management Agency) become involved in the design and decision-taking of the PCTF, thus building experience of ocean energy which Coyle says will 'prove useful at a later stage when instruments must be devised to support early commercial arrays.'
"From the point of view of ocean energy device developers internationally, Ireland is open for business. We have invested heavily in world class test facilities in Cork (MaREI), Galway (SmartBay) and Mayo (AMETS) and we are putting in place all of the policy instruments necessary to build a winning position in this exciting new industry of the future," he says.
"The indications are that Government will take MRIA's proposals concerning financing seriously and initiatives may be expected as early as next year. There is a comprehensive package of support- policy, test and R&D, and money available for suitable projects," he adds.
By Andrew Williams