Salvage contractor Resolve Marine has completed the US$2.9m salvage of an Indian navy frigate which tipped over at Mumbai naval dockyard in an accident claiming the lives of two sailors and injuring 14 others.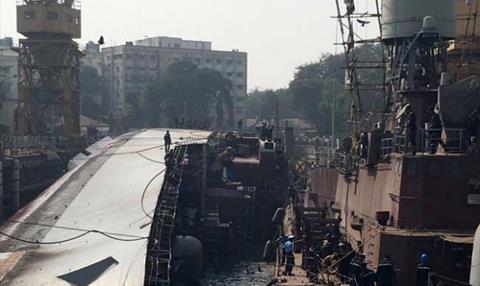 The incident occurred when the Brahmaputra-class frigate INS Betwa was being prepared for undocking following a maintenance and refit period and 'slipped from her dock blocks' settling on its port side.
The accident reportedly occurred due to miscalculations required for the complex undocking procedure, it was also reported that the frigate was heavily damaged with at least 25% of its internal compartments flooded. The accident blocked the main naval dry dock at Mumbai increasing the urgency to remove the stricken vessel along with the requirement for it to be returned to naval service.
Resolve Marine carried out a diving survey followed by work to block and support the vessel allowing the dewatering of the dock. Damage repair involved patching and securing all openings with work also involving repairing internal tanks and shell-plating. INS Betwa was righted by pumping out and flooding various compartments sequentially, a procedure avoiding the use of any external lifting forces in a complex operation completed within less than two months.
Resolve Marine Group is headquartered in the US with offices in Singapore, London and India. With a 30-year history it offers an extensive portfolio of salvage related activities including: heavylift, harbour clearance and offshore services; towing; diving and underwater services and vessel stability monitoring along with emergency consultation.
Its fleet list includes six capable tugs, two of which Resolve Monarch and Resolve Earl have a history as emergency towing vessels chartered to the UK Maritime and Coastguard Agency. Resolve Earl's 'sister' tug Resolve Blizzard is also part of the towing fleet. Resolve Monarch is the company's most powerful vessel offering 152 tonnes bollard pull.
By Peter Barker