A German propulsion expert has launched a retractable variant of its rim thruster that covers the power range up to 500kW.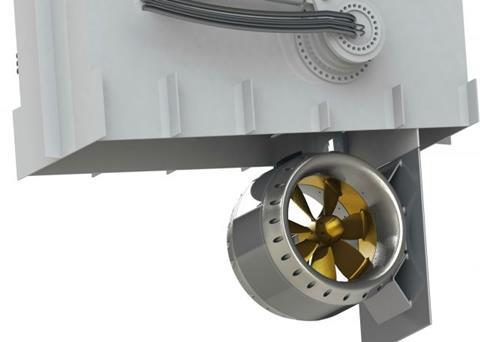 Designed for low-level noise and vibration, the Schottel Retractable Rim Thruster (SRT-R) has been developed from the company's existing rim thruster (SRT). Optimised by CFD (Computational Fluid Dynamics), the internal propeller blades are hydrodynamically designed to be highly resistant to cavitation.
The SRT-R can cover a thrust radius of 360 degrees. This offers additional versatility, and also allows the thruster to be optimally adapted to any requirement and operation profile, including dynamic positioning (DP) operation or as a take-home device.
Schottel is also offering the retractable rim thruster as an RT variant. This means that it also functions as a transverse thruster while retracted, making it highly effective in shallow water. Characterised by improved manoeuvrability, its range of application extends from brief docking and casting-off in ports to continuous operation with dynamic positioning. The company notes that the It also stands out due to its short response time to steering commands, with make precise dynamic positioning easier at all times.
The SRT is an electric propulsion system. The electric motor stator is installed in the outer part of the tunnel, while the propeller blades are attached to the inside of the rotor. This results in a space-saving and low-weight thruster. It converts electric power directly into propulsion power. Surrounding water permanently cools the electric motor, preventing it from overheating.
By Rebecca Jeffrey