A retrofit on a small passenger vessel has resulted in reduced fuel consumption of 24% and reduced emissions.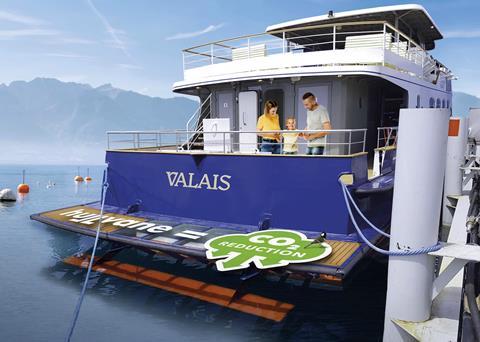 Swiss shipowner CGN retrofitted Hull Vane B.V's Hull Vane and a bulbous bow from a local subcontractor on the 30m passenger vessel Valais. The main engines were also replaced with new common-rail V8 MAN engines. After launching of the vessel, ballast was added in the bow to bring the ship to the appropriate draught.
Irwin Gafner, technical director of CGN, said: "We are extremely pleased with the results of this retrofit. Improving the hydrodynamics of a vessel makes perfect sense, regardless of which fuel we will be using in the future. Using less fuel makes a future energy transition easier and more affordable, and in the meantime, we have the benefit of lower fuel costs, less CO2 emissions, less noise and less waves."

Eco-benefits
In spite of the significant amount of added weight, including Hull Vane, bulbous bow construction and ballast, the results showed that the fuel consumption of the vessel was reduced by 24%. Additionally, the company calculated that the retrofit will reduce CO2 emissions by 129t per year, plus reduce diesel particles and NOx emissions by 24%.
Noise measurements on board also showed that the improved efficiency, lower rpm's and new engines made the vessel quieter: the noise level was reduced by 2 dB(A) in the wheelhouse and by 6 dB(A) in the passenger lounge.
The vessel now also makes significantly less waves, while the added weight and added submerged surfaces also improve the stability and seakeeping of the vessel.
By Rebecca Jeffrey