The 108 year old passenger steamer ''Alexandra'', billed as the oldest operational ship of its type in Germany, is undergoing boiler replacement this autumn in the wake of repair and maintenance that has been more extensive and costly than originally expected.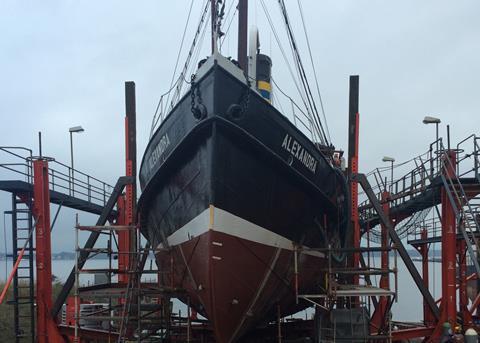 The captain of the 36.96m Alexandra, Günter Herrmann, told Maritime Journal the steamship, based in Flensburg on the German border with Denmark, will go to Husum on the other side of Schleswig-Holstein for the work. Herrmann said the new 3m by 3.3m boiler, with a water circulation volume of 13 tons, was being built at the firm of Wulff & Umag in Husum for installation at the Husumer Dock und Reparatur shipyard.
"The new boiler's dimensions are the same as the old boiler", he reported. "However the new one is a welded, not a riveted unit and weighs only 20 tons not 23 tons like the old boiler", he said adding it would withstand 18 bar pressure, against 14.5 Bar for the old one.
The boiler replacement became a necessary requirement in 2013 when just a single rivet out of the old boiler's 1000 rivets failed a pressure test. Deemed unacceptable on a passenger ship, the Alexandra was laid up and worked on while cash was being raised for a new boiler and restoration by current owners – the volunteer Förderverein Salondampfer Alexandra.
Herrmann told this correspondent the old boiler was being dismantled during the October work. He said it was planned to exhibit it in Flensburg's Shipping Museum.
Alexandra, 7.17m wide and drawing 3m, was completed in 1908 at the Janssen & Schmilinski Shipyard in Hamburg. It is driven by its original two-cylinder compound steam engine of 420hp (309kW) providing 12 knots. Launched by German Princess Alexandra Victoria for local steamship service, it was an outpost patrol boat in WW1 and also saw service in WW2. It was mustered out in 1975 and later taken over by steamship enthusiasts.
Manned by a technical crew of seven and six catering staff, Alexandra only returned to Flensburg a few months ago after two months of repairs in Kiel that lasted longer and is proving far more complicated and expensive than first thought. It is reportedly costing the veteran steamship's owners some €85,000 more than the €680,000 budgeted for.
Alexandra first docked at the small Gebrüder Friedrich Schiffswerft in Kiel and then later moved to bigger leased dock facilities at neighbouring Lindenau Schiffswerft for hull work. Initial sounding tests determined that far fewer plates than thought needed replacing. Later however it was discovered that metal bottom cross support members were nearly rusted away and that to restore hull stability they needed replacing over a substantial section of the hull – reportedly 42 m2.
By Tom Todd