A&P Group has won a multi-million pound contract to fit-out four new tankers for the Royal Fleet Auxiliary, writes Graeme Ewens.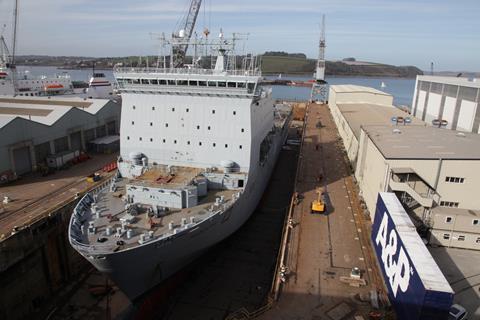 A&P Group, the UK's largest ship repair and conversion business, has won a multi-million pound MoD contract to fit-out four newbuild tankers for the Royal Fleet Auxiliary.
Designated MARS tankers (Military Afloat Reach and Sustainability) the Tide class ships will provide fuel, water, food, ammunition and other supplies to Royal Navy vessels and task groups at sea and will support amphibious, land and air forces close to the shore. They will be fitted out at A&P's Falmouth dockyard.
An order worth £452m for the four vessels was placed in 2012. The ships were designed by BMT Defence Services and are being built by Daewoo Shipbuilding and Marine Engineering. In January 2015, the keel was laid for the first vessel, Tidespring, and the steel was cut for the second vessel, Tiderace.
The vessels are 201m long, with a beam of nearly 29m and displacing 37,000 tonnes. The first tanker, RFA Tidespring, is due for delivery in December 2015. She will be followed at six-monthly intervals by Tiderace, Tidesurge and Tideforce. The four tankers are planned to enter service from 2016 and A&P Group will provide through-life support to all four ships for a minimum of three years. The working life expectancy of the ships is 25 years.
These fast fleet tankers will be among the most environmentally friendly warships ever built, designed to be fuel efficient and producing low carbon dioxide emissions. They are double-hulled to prevent or reduce pollution if damage is sustained to the outer hull, complying with International Maritime Organization pollution (MARPOL) regulations, an International Convention for the Prevention of Pollution from Ships 1973 and the protocol of 1978, as well as European Commission environmental regulations, allowing operation around the globe. The vessels will have a helicopter flight deck and will provide a vertical replenishment at sea capability. The four vessels are set to replace the RFA's three remaining Rover and Leaf class tankers.
A&P Group has contracts under the Cluster Support Progamme to provide maintenance support to 13 RFA and Royal Navy vessels from its base in Falmouth. These include the Primary Casualty Receiving Ship RFA Argus, home ported at Falmouth and recently deployed to West Africa to help contain the ebola epidemic, and Bay Class dock landing ships Mounts Bay, Cardigan Bay and Lyme Bay, along with some smaller RN patrol and hydrographic survey ships.
A&P will customise the new vessels to MoD standards and will support the vessels as they go through their initial capability assessment trials.
A&P Group Managing Director, Andy Shaw said: "The contract is significant for A&P Falmouth where the majority of the works will be undertaken utilising the company's deep water facilities and heavy engineering infrastructure. The contract also provides A&P group's port business, Falmouth Docks and Engineering Company, (the Statutory Harbour Authority), with additional business streams and enables it to progress with its ambitious growth strategy."
By Graeme Ewens