Ships are moving again on the Rhine-Main-Danube (RMD) Link Canal after lock maintenance and renovation, reports Tom Todd.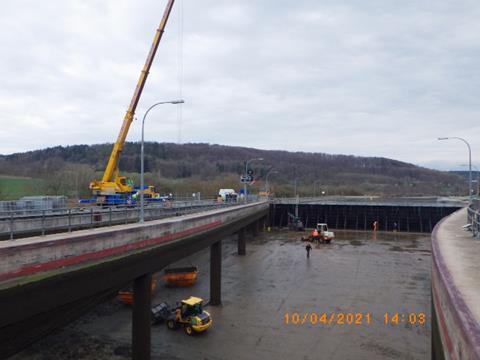 Two of the 16 locks on the 171kms Bavarian canal – at Leerstetten and Berching - were completely drained and lock chambers, gates and below-water structures as well as approach areas inspected. Similar draining was undertaken at the same time on a third lock at Geisling on the Danube itself just south of the canal. Maintenance and repairs were also completed on the Canal locks at Bachhausen, Berching and Dietfurt and old lock gates were replaced.
Officials said work is carried out every six years to assess lock deterioration and damage early as well as repair needs, and to forestall accidents on the RMD Canal. The next RMD lock projects have already been scheduled for next March and April.
Thirty years old next year, the RMD Canal is the lynch pin on a 3,500 kms pan-European Rhine-Main-Danube shipping route linking the North Sea and the Black Sea as well as the economies of some 15 European countries.
The WSA Donau MDK, part of the German Waterways and Shipping Administration, said the latest work, costing about €8.4 million, was "comprehensive and challenging". The canal and the entire route could be re-opened to international shipping after just three weeks it said. Involved in the work were 270 engineers, technicians and personnel from the WSA and other agencies along with 170 specialists from associated firms, it added.
WSA Donau MDK head Guido Zander said "complex and dovetailed European traffic flows depend heavily on reliable transport routes so it was a big achievement for us that all the ambitious construction projects – particularly the predetermined, time-critical 24 hour ones - could be completed as planned and on time".
The RMD Canal runs from Bamberg on the Main to Kelheim on the Danube. It opened to shipping in 1992 and rises through 243m to RMD Canal-Berching-210410-01 406m above sea-level making it the highest waterway in Europe. Its16 locks are among the biggest and most modern in Europe handling vessels up to 190m long and 11.45m wide. Among a range of technical innovations developed specifically for the Canal are water-saving side storage tanks at three levels.