A unique €5.1 million workboat seen as a model for future eco-drive systems has finally been named reports Tom Todd.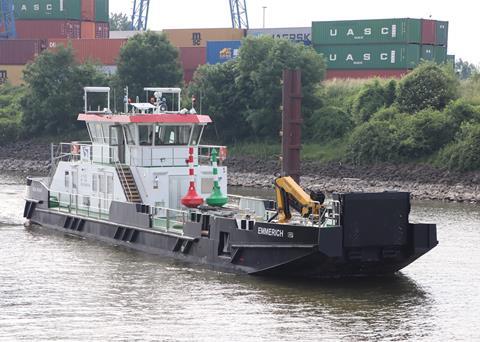 The 33.25m by 7.4m traffic control boat Emmerich, drawing 1.05m, was actually delivered in 2020 by Elbe small boat yard Bolle for service with the Rhine office of the government's Waterways and Shipping Administration (WSV).
The naming of the multi-functional newbuild – already tagged a 'jack of all trades' - was delayed by Covid. But it has meanwhile proved itself on the Central German Rhine near the Dutch border.
Experience to date with the newbuild is described as "completely positive" and when WSV Rhein office head Birgitta Beuel named the boat in August she said it was already making a significant contribution to trouble-free Rhine shipping.
After just a year, Emmerich is already regarded as one of the most eco-friendly and cleanest boats in the WSV fleet as far as climate and environmental protection are concerned.
None of which is surprising given that Emmerich was conceived and built by Bolle, WSV and Innoship engineers specifically as a prototype for a series of future-oriented workboats equipped for eco- system change later if required.
It is an improved and modified version of similar Rhine boats and incorporates the technical knowledge and practical experience gained with those earlier vessels. Its workload is extensive. It includes wreck and obstacle recovery, the setting of fixed and floating shipping markers and their maintenance and repair.
WSV spokeswoman Valeska Bergmann told Maritime Journal the two originally stipulated main diesel-electric engines on Emmerich - 300kW Volvo Penta D13 units - had been changed. Two Scania DC13311A each of 294kW replaced them because these were the first certified units to meet higher V emission standards applying from 2020 They drive two Danfoss generators each of 253kW with Fischer emission control technology, which in turn feed two Schottel SRP 100FP rudder propellers each of 210kW, a 100kW Veth VCG-600 bow thruster for positioning, and provide on board power. Using GTL low-emission fuel based on natural gas, some18kms/h is provided.
Emmerich equipment also includes a Palfinger Marine PK 29002 ME crane of max 400kg lift, plenty of deck space for obstacle stowage and an hydraulic ramp.