Dutch boat builder No Limits Ships which builds a range of large wheelhouse RIBs that are used for survey and personal transport operations has introduced an automatic inflation system that keeps the tubes at the correct pressure.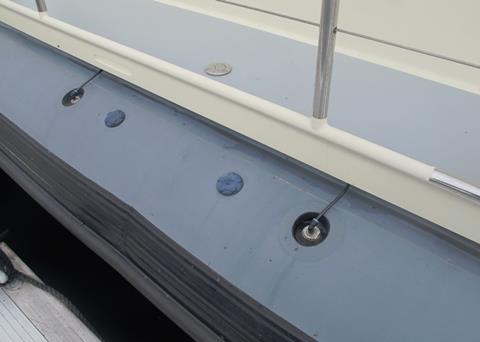 This system has been developed in cooperation with British company Henshaws who built the inflatable tubes for No Limits.
On the No Limits RIBs the tubes are of large diameter and D-shaped and the builder recommends that the tubes are operated at 0.1 bar which is equivalent to 1.5 psi. This is a considerably lower pressure that that suggested by most RIB manufacturers who often use pressures of up to 4 psi. The lower pressure used by No Limits Ships allows the tube to deform under wave impact which was the original function of the inflatable tube when RIBs were first developed and this allows a much improved ride in rough seas.
When operating the tubes at the higher pressures the tube tends to 'bounce' under wave impact and this results in a much harsher ride in waves. It can also be detrimental when coming alongside as the tube tends to bounce away from the ship or jetty rather than ease alongside.
With the system used on No Limits Ships the tubes are fitted with specially designed inflation valves that allow a small inflation tube to be inserted into the centre of the valve. This tube is connected to a larger tube running around the inside of the boat and this in turn is connected to a sensor and an electric air pump.
Tube pressure is likely to vary both if there are small leaks or with temperature changes and this system allows the pressure to be reduced when it exceeds the set limit, usually when the boat is exposed to hot sun. The tube pressure will also be maintained during cold weather or when operating in cold seas. RIBs that are not fitted with such a system tend to over-inflate their tubes to allow for these temperature variations with the result of a harsher ride. The tube can be maintained at a beneficial lower pressure when there is a pressure compensating system fitted with the result that the ride of the RIB can be considerably improved without recourse to expensive shock mitigation seating.
The No Limits Ships large RIBs are based on a unique hull design that combines the benefits of the RIB tube with a very deep vee hull and they have a reputation for performing well in adverse sea conditions. They range in length from 14 to 18 metres and they are used both in the commercial and leisure sectors.
By Dag Pike