A project to monitor operators on a Marathon 900 RIB-D boat from Viking Norsafe found huge differences in the guidance of the system and the operator's behaviour.
Hefring Marine's monitoring system was used during an 11-hour trip over 212 nautical miles, from Hanstholm in Norway to Hvide Sande in Denmark, as part of a research project carried out with Viking Life-Saving Equipment.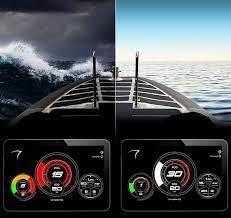 "The aim of the project was human injury prediction, structural capacity prediction, sea-keeping effect analysis and machine-human interface," says Hefring Marine. "The Hefring Marine system was actively monitoring the trip but did not feature the HM Captain on-board interface, and therefore no real-time guidance.
"The goal of the monitoring was to observe and analyse the operator's behaviour. The boat had a crew of two, both of whom have prior experience in high-speed boat operations. The results of our on-board data collection and processing were significant and relevant for the safety of today´s high-speed-boat operators, who deserve measures that ensure duty of care."
The system used a single sensor configuration, which was placed by the helm in the front seating position in the vessel and therefore the best place to monitor any impacts or motions experienced by the operator.
"The Hefring Marine system monitors impacts and motions and calculates a recommended safety speed (Redspeed over Ground, or ROG), which uses an impact threshold to determine onboard safety compared to actual Speed over Ground (SOG)," says Hefring.
"The impact threshold was set to 3.0g because at this limit, crew can start to experience extreme discomfort but are unlikely to suffer injuries."
Every 1.8 minutes, an impact greater than 3.0g was recorded, with a peak impact of 6.0g – which if measured as an average over 10 peak impacts, would be considered by the US Navy to be the limit for small craft accelerations that can cause physical injury – "and should be expected only when military crew is under fire", says Hefring.
Also, 72% of the trip was done at a higher SOG than the recommended ROG – and 90% of the impacts above 3.0g occurred at these times.
The research was carried out in collaboration with VIKING Life-Saving Equipment as a partner in the Intelliboat project, and although the operator did not have an HM Captain interface for guidance, which could have improved overall safety during the trip, the project demonstrated the huge difference between the operator's actions and the system's guidance.
Supporting documents
Click link to download and view these files
Other, FileSizeText 95.88 kb

Other, FileSizeText 95.88 kb

Other, FileSizeText 95.88 kb