Catamarans and hard sided workboats have traditionally held sway in commercial operations for crew transfer, survey and patrol vessels. Can large RIBs perform any of these tasks to the same standard? Southampton, UK-based Commercial Rib Charter seem to think so.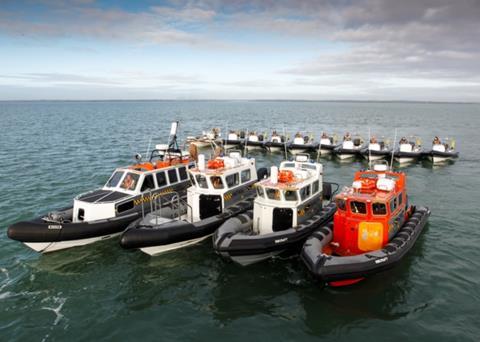 After fifteen years of running small RIBs for a variety of commercial clients, the company has been investing in larger cabin RIBs. Director Stuart Hedges told Maritime Journal: ''The biggest surprise to new clients is how much cheaper these boats are. They cost less to charter, are cheaper to mobilise, go faster, burn less fuel and perform really well in a sea''
According to Stuart, the Dutch have embraced larger Ribs as patrol boats and Pilot launches in the way that the British market has yet to see. Perhaps Commercial Rib Charter are ahead of the curve?
At Seawork, Commercial Rib Charter are showing off their newest fifteen metre cabin RIB 'Galaxy' on the Hamilton Jet berth (VB18), along with 'Atlas' and 'Argosy' on the Suzuki berths (VA23, VA24).
'Galaxy' is worth a look, says Hedges. She packs in fourteen Crammer air suspension seats, a proper heads and galley as well as plenty of deck space. She is pushed along in style by twin Volvo 435 D6s coupled with TwinDisc gearboxes driving Hamilton Jet 322s offering a sprint speed of 36 knots.
By Jake Frith