A UK-based marine renewables business believes it has found a niche for a new class of multi-purpose vessel that bridges the gap between inshore multicats and deep sea OSVs.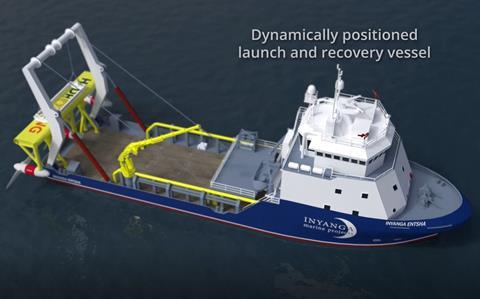 Inyanga Marine projects, based in Penryn, Falmouth has received equity and debt facilities of £2.25m from corporate and private investors, backed by the Cornwall and Isles of Scilly Fund (managed by FSE), Cyan Finance, Lombard and private and corporate equity investors.
The game changer is a reconfigured 58m, 1500dwt DP2 platform supply vessel which Inyanga MD Richard Parkinson discovered after searching for useful marine construction vessels at an agreeable price. Most OCVs and OSVs proved too big for his requirements while multicats were too small to fulfill all the functions he requires. He was looking for a vessel that was something in between those classes. Richard is a mariner and ex-captain of anchor handling tugs who has been based in several African countries and the vessel was found in Limbe, Cameroon where it was stacked for four years along with several others of the Bourbon fleet. As the 'mother ship' this Liberty class vessel was kept in warm layup meaning there was less work involved in reactivating it.
Named Inyanga Entsha (Zulu for New Moon) the 2010-built vessel is very cost effective, with diesel electric power giving better fuel consumption than most multicats. It is fitted with five thrusters and enough deck space for cable spread and ROV spread. The ship is currently being prepared to sail to the UK where the deck will be strengthened and fitted with a prefabricated mezzanine deck; a heave compensated A-frame with intelligent Launch and Recovery System (eliminating need for ROVs for lowering HydroWing tidal turbines); heave-compensated deck cranes and a subsea crane.
The Hydrowing system, which has been developed by Inyanga, consists of a permanent, gravity-based structure with retrievable wings fitted with three turbines generating 50-400kW each. Inyanga claims the vessel will be the first dedicated tidal installation and maintenance vessel, providing a total solution capable of installing up to 100mW a year. The conversion work has been put out to tender for a west-country shipyard, and the vessel's home-port will be Falmouth. It will carry a marine crew of eight with five project crew.
By Graeme Ewens