What has been billed as Germany's first amphibian vehicle service to offer combined tours on land and water has gone into service in the city and port of Hamburg for HafenCity RiverBus.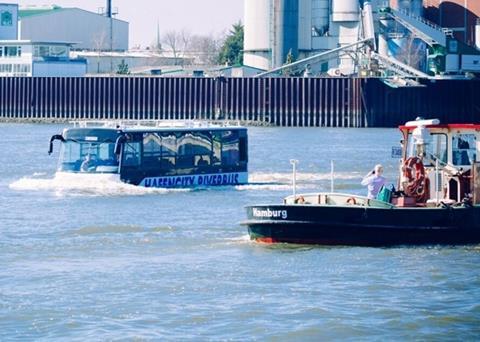 The 12.07m long, 2.54m wide and 3.75m high Type Swimbus SB 12.00 has cost around a million Euros. It looks just like a bus but offers combined city and river tours lasting 80 minutes – with 35 minutes of that spent on the River Elbe during a tour that includes the city's historic Speicherstadt warehouse district and other maritime highlights. It is hoped there will eventually be five guided tours a day starting and ending on land at Hamburg's Brooktorkai close to the International Maritime Museum.
The RiverBus enters and leaves the Elbe via a ramp and then sails upstream or down depending on the tide. It carries 36 passengers and a crew of three and operates at a speed of seven knots on water and 65 kms/h on land. The boat boasts air conditioning, heating, an audio system, a main entrance and two emergency exits.
HafenCity RiverBus said it was the first such amphibian in service in Germany. Elsewhere however Riverbus builders Hungary's Swimbus International Kft have operated a RiverRide service in Budapest for six years and similar amphibian services have been available elsewhere in Europe. Stockholm has Ocean Bus and a WaterBus service operates in Rotterdam.
Fred Franken, one of the two founders of the Hamburg project, told Maritime Journal the vehicle is driven on land by a 290 hp MAN engine. On water propulsion is provided by two Italian Castoldi Water Jets driven by 156 hp Steyr Marine diesel engines.
Co-founder and Technical Manager Jan Peter Mahlstedt, like Franken also from Hamburg, said that technically the RiverBus meets all safety demands. It is classed by DNV GL and is approved by the German vehicle standards concern TÜV Rheinland and also has an EU passenger ship certification.
Mahlstedt said at the launch of the service that: "for us, it represents the end of a very long process and, at the same time, the beginning of a crazy adventure!".
The firm said it had taken 1,500 days to plan and develop the idea in Budapest where Swimbus International's RiverRide has served as a prototype for RiverBus during its years of successful operational and maintenance experience.
The Hamburg vehicle took more than a year and a half to plan and build, said Swimbus head Gabor Galla. Safety, standard and insurance authorisations alone took nine months to acquire, he added. Galla's wife Szusza launched Riverbus in Hamburg. The vehicle's hull and upper Ikarus body are Hungarian built, but other components have been bought in from Italy, Austria and Germany, he said.
By Tom Todd