A potentially lifesaving rescue device made from empty plastic bottles is being trialled by the RNLI in the UK for the first time.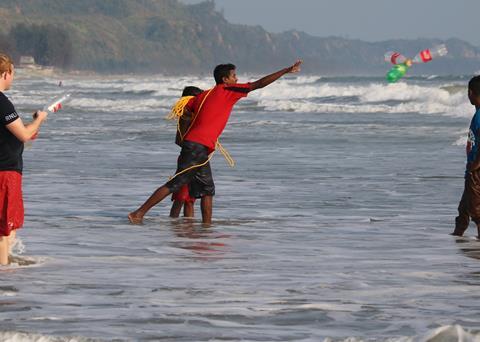 Bottle buoy will be tested in the sea off Cromer on 10 November, the floatation device is made up of three empty bottles screwed into a central core.
Stuart Thompson from the RNLI's international development team, explained: "It's one of those ideas that, when you see it, you can't quite believe how simple it is, or why no-one has thought of it before. It's a plastic or wooden core which you secure three bottles to."
"The bottles are empty and sealed, and the air trapped inside gives the device incredible buoyancy – enough to keep a casualty afloat in the water until help can arrive."
This simple device is cheap to manufacture and has already been trialled it in the sea in Bangladesh in May by the RNLI's international team.
The promising results of those tests led to the RNLI carrying out more vigorous tests on home soil, to ascertain the potential future lifesaving benefits.
Bottle buoy has been developed by UK-based Huddersfield student James Benson, who came up with the idea, built a prototype, and entered an International Maritime Rescue Federation (IMRF) competition.
Mr Thompson continued: "In May we ran some trials with an injury prevention organisation called the Centre for Injury Prevention and Research, Bangladesh. This was part of our international work to improve search and rescue capacity in countries with high drowning rates."
He concluded: "In the sea at Cromer we'll see if it can be reliably thrown over a distance, how far, whether it can keep more than one person afloat, whether it works with a line attached to aid recovery, how it fares in different sea conditions etc."
By Alice Mason